Happy 2014, My Top Ten Posts of 2013, and a Quick Survey
Happy New Year, everyone! I hope you had a fun and safe holiday season, and here's to a fantastic 2014!
As a celebration and thank you for a great year, I've made my book free today – please pick it up on the house if you don't already have it. And, if you do have it, have you updated to the second edition? (It's free in your Amazon "Manage My Kindle" page).
I, for one, am thrilled to usher in a fresh new start and put 2013 in the filing cabinet. And, it seems like a lot of you are, as well.
While I had my virtual filing cabinet open to put 2013 away, I thought I'd go digging through it and share the top ten posts from the blog in terms of readership over the past year. Don't worry, I have new recipes lined up for the next few weeks, but I thought it would be fun to look back on the past year before we totally move on to 2014 business.
And speaking of 2014 business, even though I think I "know" what you guys want to read about from me, I'm often surprised when a topic I think will be popular is a dud, and when I post something on a whim that turns out to be a hit.
I often look at readership stats to help guide the editorial direction of this blog because I want to provide you info that you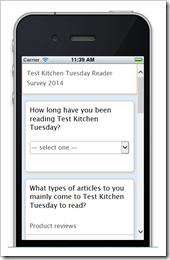 want as best I can from my unique perspective, but sometimes, the best way to know what you want is to simply ASK.
Of course, when asking tough questions, one had better be prepared for the answers, and I am.
So, before I get to the top ten posts, I have a favor to ask of you. I created a brief, anonymous survey to help me understand what you like and don't like about the blog, what kind of content you'd like more of, with a space for any open ended feedback you have. This should only take a minute or two, and is mobile/tablet friendly.
Your input (good or bad) is invaluable for me, so thank you in advance for taking the survey here.
Top Ten Posts of 2013
Now, to the reason for this post – what you read (and re-read) in 2013. Interestingly, most of these posts were not written in 2013, and all of them revolve around blending.
10. Banana Cream Pie Blender Ice Cream. This is honestly my most favorite recipe that I have created, and it is super simple (and delicious).
9. Making Apple Juice with a Ninja Blender.  Juice is going to be a theme here…get ready.
8. How to Make Your Own Peanut Butter in 3 Minutes. This one is a no-brainer. Peanuts + Blending = pure awesome.
7. Berry Blender Soft Serve. Super easy and tasty, and, no guilt at all with this soft serve!
6. Whole Food Juicing in the Ninja Mega Kitchen System. The Ninja Mega really does make a nice whole food juice if you add ice, and this post explains how.
5. Ninja Pulse Product Review. The Ninja Pulse flies under the radar, but it is a very good blender with a very small footprint.
4. How to Make Vanilla Soft Serve. This one continues to get a lot of traction – the numbers don't lie. It seems that people love vanilla much more than chocolate, at least when it comes to ice cream.
3. Ninja Professional Blender Product Review. This was the first review I wrote on this blog, and while I think I have improved in my review quality over the years, this one has stood the test of time. And, I still stand by it as an excellent choice in blenders!
2. Ninja Mega Kitchen System Review. This is a five-part review that really kicked the tires on the Ninja Mega KS, including how to make rice milk, cashew butter, whole food juices, and even cookie dough, all with the same machine.
1. How to Make Juice with a Ninja Blender. No change from last year – by far the most popular post I've ever written.
Didn't make the list, but, by far the most popular non-blending post was a discussion on the Insanity Challenge, followed closely by the story of how I reversed the onset of hypothyroidism in a natural way. For what it's worth, I just updated the post about the hypothyroid with my latest blood tests, which show an additional decrease in TSH since the original post, indicating my insistence that "you are what you eat" is certainly an accurate assessment.
As always, thanks for reading, and here's to you in 2014!