Random Friday Thoughts–January 25
Happy Friday!
It seems folks liked the idea of a "random thoughts" post on Fridays – thanks for the feedback! I like it too, so without further adieu, let's get to it for this week: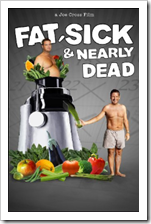 A couple weeks ago, we watched the documentary, "Fat, Sick & Nearly Dead." I can't stop telling people about this film. I think it will appeal to anyone, no matter if you are thin or overweight, sick or healthy. It's really a story of two people getting healthy with juicing, but it's really more than that. I think it gets to the heart of the "apple a day" concept, or "you are what you eat." You truly ARE made of what you eat. In any case, if you are looking for some motivation, or simply want to see an entertaining documentary, check it out. It's free and commercial-free on Amazon for PRIME members, and also free on Hulu (with commercials). The star of film, Joe Cross, has a blog called Reboot with Joe where his staff and readers provide recipes and other ideas.
When I was a kid, we had a dehydrator. I have no idea what my  mom did with said dehydrator (maybe she will tell us in the comments), but, as I looked into making raw macaroons, it became clear I should get one. They are surprisingly affordable! This is the one I bought, and it was on sale for about $30. It doesn't have adjustable temperatures, and the fan is moderately loud, but I didn't feel my needs warranted the $200 fancy Excalibur dehydrators, so wanted to start small. As I have thought about this new gadget, I realized there are lots of things I want to make! Fruit leather, dried fruit, kale chips, sweet potato chips, raw crackers…the list goes on and on. Stay tuned for dehydrating fun!
I have heard from 2 of the 3 winners for my recent giveaway. Dawn, I'm waiting to hear back from you. If I don't hear by Monday, I'll go ahead and draw a new winner.
Have you heard of the Aqua Zinger? I just discovered these and am planning a review in the coming weeks. Y'all know I love infused water, so I'm excited to try this personal flavored water maker! I reached out to the folks that make it, and we are working out a few things – I should have some good info for you soon.
I finally got around to putting together all my thoughts on big salads, including a formula for home-run, meal-sized, nutritionally-dense salads. (Gee could I come up with more adjectives here? Well, probably.)This is on tap for next week.
And, speaking of produce, now that we have a temporary kitchen, I am so excited to be participating in a CSA again. Just check out this haul that came yesterday from SPUD (Sustainable Produce Urban Delivery). I couldn't get the 10 pounds of pears that were on sale into the photo! So much good stuff.
And finally, a big, heart-felt THANK YOU to everyone that has bought my book, sent emails of encouragement (or questions – you  know I honestly love helping answer your questions), and/or left a positive review on Amazon. Your support means so much, and it's the reason I keep doing what I do. So, I can't say thank you enough.
Happy weekend! Thanks for reading!