Flourless Healthier Brownies
I have noticed that flourless chocolate cookies are all the rage right now, probably because gluten free foods are very popular. That's all fine and good, but, the thing is, flourless cookies usually rely on a heaping helping of confectioner's sugar to make them taste good. So, in reality, they don't have flour but they will skyrocket your blood sugar – which I'm not so sure is a great trade off!
But wait, there's good news! You can make flourless brownies (or cookies) without tons of refined sugar. And, you can make them fairly healthy for you, too!
These brownies aren't over-the-top sweet, but they do hit the brownie-craving spot (and I provide a recommendation for how much extra sweetener to add if you have a serious sweet tooth.
Much like the three ingredient oatmeal cookies, they're a good replacement for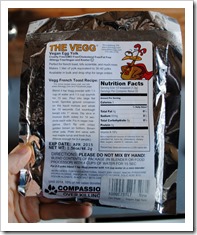 something less healthy for you, but not an exact replica of what your grandma used to make. Because of the almond butter and avocado adding a punch of healthy fat, it's likely just one will be "enough" – you will feel like you got your treat but not like you need to eat the whole pan. And, at under 100 calories each, you really can't lose! (Confession: I did eat four over the course of a day "testing" these…)
I used a product called "The Vegg" as an egg replacer in mine. It was my first time using it, and I was really struck by how much it actually smells like eggs, without an ounce of egg in it. Incredible. I'm not sure that The Vegg is really designed for baking (it is really just fancy nutritional yeast), but it did work out okay for me. You can use real eggs if you want, or, other egg replacers like Ener-g (which would probably be better as it is designed to be used in baking), or even a flax egg.
I don't like to make large batches of baked goods, healthier or not, so this recipe is for a small batch that I baked in a loaf pan. If you need a larger batch, double (or triple) it.
Flourless Brownies
Recommended Ninja Blender Jar:
Ninja Pulse: 40 ounce jar with standard blade
Ninja Kitchen System: 40 ounce food processor bowl with standard blade
Ninja Mega Kitchen System: 64 ounce food processor bowl with standard blade
Ninja Professional Blender: 72 ounce jar with standard blade
Ninja Ultima: 72 ounce jar with quad blade inserted
Makes: 8 brownies in a loaf pan; for an 8×8 pan, double this recipe
Ingredients:
1/2 Hass avocado
1 medium ripe banana
2 tablespoons almond butter (unsalted if you have it)
2 tablespoons pure maple syrup (add 1-2 tbs more if you have a big sweet tooth)
1 flax egg or equivalent egg replacer, or 1 whole egg
2 tablespoons unsweetened cocoa powder (or cacao powder)
1/4 cup almond flour/meal
Optional 1/4 cup mini chocolate chips of your preference
Method:
Preheat oven to 350 degrees.
Puree avocado and banana in a food processor or high-speed blender until very smooth (blend on "2" for most Ninja Blenders)
Add other ingredients and blend on low speed until the batter is smooth ("1" for most Ninjas) – you may need to scrape down the side
If using chocolate chips, add these last after the mixture is fully blended and pulse 2-3 times to combine
Pour batter into a loaf pan and bake for 45-55 minutes, until an inserted toothpick comes out clean
Let cool and slice into equal squares
Nutritional Breakdown:
For 8 brownies without added chocolate chips