Out and About in Bend: Baldy's BBQ
First order of business today: Happy Labor Day! We are celebrating it as we always do: With some manual labor. What? That isn't the intended meaning of the holiday? Oh well. It seems even when you buy a new house there are chores to be done to make it "just right," and the weekend has been spent in the garage on organization systems (imperative when you have too many skis and bikes) and putting down an epoxy coating on the concrete.
Second order of business: I have a confession to make as most of you fire up the grill and get your BBQ on.
I don't particularly care for barbeque.
I know, I know, they let me out of Texas with a swift kick for that one. But, as Popeye likes to say, "I yam who I yam." And, I "yam" not a fan.
But, 2Chili loves his BBQ. Correction: 2Chili loves barbeque sauce. So, I indulge him from time-to-time. Being that we've both been pretty busy with work lately, as well as working to get ourselves situated in a new house in a new town, we haven't really been able to explore as much as we'd like, and we have barely taken in any of the dining options – unless you count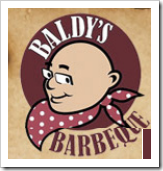 Subway as a "dining option."
So, in honor of Labor Day weekend, which I have heard is popular for the BBQ, we went out Baldy's BBQ. I reckoned they'd at least have a salad of some sort I could modify to suit my tastes, and was pleasantly surprised to find a black bean burger front and center on the menu.
And, I have to say, it was the best bean burger I have had out – the grilled veggies really made it. If you are ever in Central Oregon, I highly recommend stopping by and having one for yourself. Thanks, Baldy!
I hope you are having a restful holiday – not involving painting your garage floor – and I'll catch up with you on Wednesday for this week's TKT. I may or may not have a new Ninja recipe coming up soon! (Okay, I won't tease you, I do. But you'll have to stay tuned to see what it is…)