The Accidental Yogi
I used to do things all wrong:
I grocery shopped on fat and calorie content alone, not bothering to read labels to see what was actually inthe packaged foods I bought at the store. Produce was basically apples and bananas, and that's pretty much it. Yeah, stupid, I know.
I exercised a lot, but it all cardio until a few years ago, when I managed to stumble onto "The Firm" (like 10 years after the rest of the country – that'd be the workout series, not the book; I read the book when it came out, of course!) and I started doing weight training on a regular basis.
I never, ever bothered to stretch after working out. Pshhh. I had other things to do, like go have some super-processed low calorie frozen dinner and low-fat cookies. Sounds delicious, huh?
I have been on a path to do things all right for some time now, and, I gotta say, it feels good. There is always room for improvement, but I am getting there (and 2Chili is coming along for the ride).
When it comes to grocery shopping, I read the whole label (if the item has a label, that is), buy only minimally processed foods if at all possible, and keep a watchful eye on salt, sugar, and the evil-doer HCFS. Produce is the cornerstone of our diet day in, day out.
I still exercise a lot, but I make sure to keep weight training part of my routine. The Firm is a distant memory – the Jari Love Get Ripped series and good ol' P90X are my staples now. My half marathon best time came down 15 minutes (15 minutes!) when I did P90X the first time.
I always stretch after every workout now, and regularly practice yoga, whether I want to or not – because it makes me feel good. It cures mild backaches, sore hamstrings, and, a restless mind. That's a big bill of goods, because my mind is more than a little restless. Maybe you noticed.
My favorite yoga practice is really  more of a stretching DVD that employs yoga principles. I've tried a lot that I like, but between swimming, running, biking, and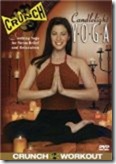 weights, the last thing I need is a hard yoga practice that is going to leave me sore! I just want yoga to be about relaxing, and Crunch Candlelight Yoga fits the bill nicely. It's relatively short at about 35 "active" minutes, and just what the doctor ordered when I am sore for some reason. Oh, and I'm sore a lot.
I've tried a wide variety of DVDs, from power yoga to yoga for particular aches and pains, to yoga for weight loss, and I keep coming back to this one time and again because it seems to work for me.
Do you have a favorite yoga DVD? I've love to know!