Healthy Holiday Gift Guide
It seems this time of year many bloggers put out "gift guides" in their areas of expertise to help people brainstorm gift ideas for friends and family.
I thought it would be fun to do a Test Kitchen Tuesday gift guide for the healthy foodie/athlete/eco-friendly/blending fanatic in your life. I consider myself all of these these things all rolled up into one, so that is my basis for this idea list.
As much as I sort of dislike the consumerism associated with the holidays, I do have a list of "consumery" items here, mixed in with a handful of surprises. With that, I present you with 15 gift ideas that range in price and size.
FOR THE SMOOTHIE LOVER
While I think a Vita-Mix is the gold standard for any health nut, not everyone wants to drop $500 on a blender. (Oh, but it is so much more than a blender!)
I write about the Ninja Blender and Ninja Kitchen System a lot around these parts, but the truth is I just love my Ninja Blender. It won't walk your dog or pay your bills – as some people expect it to because of the infomercials — but it really is a great blender/food processor solution. For under $100, you can have the blender, or, for about $150 you can get the whole kitchen system, which comes with a smaller blending jar and some other accessories.
Another option is a Magic Bullet-like system, which allows for blending in individual jars. I have and recommend Cuisinart's answer to the  Magic Bullet. It is a little "nicer" looking, and, has the Cuisinart brand behind it. The Magic Bullet system will run you about $50, whereas the Cuisinart system is about $69.
FOR THE FRUIT/VEGGIE/SALAD LOVER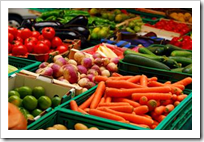 I think the best gift EVER for a produce lover is a membership to their local Community Supported Agriculture Farm, or CSA. CSAs vary widely in terms of how their memberships and food dividends work. Some require working at the farm, some give you equal share of the bounty, and some just give you a set amount of produce each week – so do your research before ponying up on this one! Local Harvest is a good resource for researching CSAs.
It needs not be said that a Salad Spinner really is a kitchen essential. While maybe not a terribly "cool" gift, if your loved one is washing and drying greens the old fashioned way, s/he needs an upgrade! There are a lot of cool salad spinners out there, just steer clear of the models with a "pull string." That gets old fast. Go with one that turns with a handle, like this one, or pushes down with a "button," like this one.
A pretty way to display oil and vinegar is a must for the salad lover, and this boxed set from Italy is a nice storage solution for under $20. Another idea is a salad dressing cruet, which lets the user mix homemade dressing and store it for a few days in an airtight container. This particular cruet comes with a built-in battery powered mixer for under $20. The geek in me enjoys the built-in mixer, which is basically one step past my idea of using a milk frother to mix salad dressing!
Also along the lines of oil distribution is a spray mister. This is really a kitchen essential because it lets the user spray the oil of their choice in very fine amounts, and pretty much eliminates the need for store-bought cooking spray. Store bought spray is not the best on many levels, so I have used this Misto mister to avoid needing it. For under $10, you can get a spray bottle that will last for years, and they come in multiple colors, too. I like the color-coded idea to let you differentiate between oils – one for each type of oil you use.
FOR THE WORKOUT FANATIC
Eating right and working out go together like a nice balsamic dressing and a spring greens salad. I really think at-home workout programs are the best because they take away the transportation requirement and remove a barrier. In general, you can have a great workout at home in the time it takes to go to and from the gym. It just makes so much sense!
My favorite at-home workout is P90X. I have tried a lot of workout DVDs (a lot!) and this system is by for the most complete and professionally made. It comes with an eating plan, a prescriptive day-by-day workout regimen, and plenty of variety so the user doesn't get bored. And, it works. Anyone who is looking for total body fitness would certainly appreciate P90X. If you do buy someone P90X, be sure to buy it either from Amazon or BeachBody directly – there are a lot of counterfeit versions for sale on eBay and Craigslist, and you can't be sure they will work.
Another great at-home workout comes from Bob Harper of Biggest loser fame. His Inside Out Method DVDs are intense, even for the most fit person in your life. He has five or six titles right now, and they are all available at Wal-Mart and Target for less than $10 each. These would be great stocking stuffers! He has a collection of strength, cardio, and even a yoga title.
An eco-friendly yoga mat is a nice gift for someone that enjoys yoga or pilates. Typical yoga mats are made with plastics (PVC) that off-gas and are not great for the environment (or our health). Choose an eco-friendly mat that is PVC- and phthalates-free.
And, while you're at it, make your friend a yoga mat bag out of an old pair of jeans! You probably have plenty hanging in the closet, and this is something you can do for pretty much free!
FOR THE TREE HUGGER
There are a lot of good BPA-free water bottles on the market now. A Kleen Kanteen or other BPA-free water carrier is a great gift for an on-the-go person or workout fanatic who is also concerned about environmental issues.
Perhaps not the most "fun" gift ever, but a home composting tumbler is a fantastic gift for your earth-loving loved ones. I admit to being a composting fanatic myself. Anyone who eats a lot of fruits and veggies has a lot of food scraps, and it is so great to put them to good use instead of into the landfill. If you go this way, a good book on how to compost is probably a good companion.
What do you give the one you love who wants nothing? Carbon offset credits.  What a cool way to show someone you care about them, without giving them anything tangible. It is eco in so many ways!
Another idea along these lines the fits the giving something without giving something tangible is donating a tree or trees to be planted in honor of your friend or family member. Trees for a Change will plant a tree in honor of anyone you wish in a U.S. National Forest destroyed by wildfire. For $35, you'll get a tree planted, a 100% recycled paper certificate of the tree donation, and, information on where the recipient can actually find their tree. That is so cool!
###########################################################################
Hopefully these ideas are helpful, or at least mildly entertaining! Happy Holidays!