Travel Tips to Beat Holiday Weight Creep
It's that time of year. No matter who you are or where you live, odds are you'll travel – at least a little – at some point over the next month. I have no scientific basis for this assumption, but I really think holiday travel is what sets a lot of folks off on a slippery slope of unhealthy eating that can last well past New Year's. "I'm on vacation" justification slips into normal daily patterns, and before you know it, you've gained 10 pounds in a month.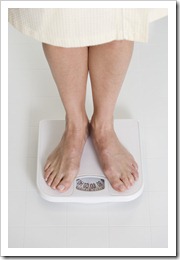 But, it doesn't have to be.
With a little pre-planning and perseverance, being away from home at meal/snack time doesn't have to be a one-way street to poor judgment or overeating. Last week, we were away from home from Tuesday until Friday, and were reliant on what we could find "on the road" when it came time to dine. The thing is, though, we also weren't reliant on what we could find on the road. I had pre-packed lots of things to make sure that hunger didn't override smart choices, and I wasn't stressed out because I couldn't get what I wanted or needed.
When it came time for dinner, we were bound to restaurants due to catching up with family, but I choose what I normally eat for dinner – salads. Just because we were "on vacation" didn't mean I needed to indulge in unhealthy foods. Besides being counterproductive to what I'm trying to achieve (not getting on thyroid pills), I wouldn't feel good if I went off the script and ate foods that aren't normally part of my diet. Waiters want you to be happy, so I am not shy about asking for minor alterations to items on the menu to make them how I want them (e.g, add something that isn't normally included, or remove something that is) If you are polite and tip well, there is no need to be self conscious about asking for what you want at a restaurant!
The biggest way to set yourself up to succeed while travelling is to be in control of your situation, and in this case, it means packing some small items to make your life easier. Here are the items I packed to make our trip much more enjoyable and stress-free. Your items will probably be different, but I thought this might help get the ideas flowing for you.
Lastly, we visited a Trader Joe's at lunchtime most days and bought pre-packed salads and fruit. A grocery store is almost always a smarter lunch choice than a restaurant, as you can assemble something healthy for much less than the cost of eating out! Just do a little homework and figure out where there is a store that will have what you need at your destination. We always seek out Trader Joe's, because they have cheap bottled water, a nice selection of salads, and affordable organic produce.
And that's it! Just a small bag of personal favorites can help your travels so much as you won't feel compelled to eat airport food, convenience store snacks, or, the sugar-laden breakfast foods available at coffee shops.
What are your go-to travel essentials?