Quick Review: Vega One All-in-One Nutritional Shake
Last week, I ran out of the Amazing Grass Amazing Meal I have been taking daily, and headed over to Whole Foods to replace it. Without a finished kitchen in sight, I am still relying on nutritional supplements to cover my bases – and honestly, if you pick the right ones, that's not a terrible option.
While browsing the "greens powders" aisle, I noticed that Vega One Nutritional Shake was on sale. I've been wanting to try this, but it's pretty expensive! So, I put it off and put it off, and finally had a chance to pick it up at a little less expensive price.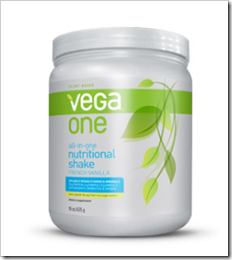 (FWIW, it's on sale at Amazon right now, too! This link will take you there.)
I debated between the Vanilla Chai and the French Vanilla flavors, ultimately settling on French Vanilla. And, it was a good choice. The flavor is really quite good, especially considering what's in it. In fact, I think you could mix this up and give it to a child without them realizing they were drinking something healthy (except that it is green in color – you would have to sell that aspect or put it in a solid bottle).
For those that don't know much about Vega, it's the company of vegan ultra-runner/Ironman Triathlete Brendan Brazier. They make a line of vegan supplements, including protein powders and other nutritional powders.
The nutritional shake powder has a great profile, including 15 grams of plant-based protein, 1.5 grams of Omega-3s, 1 billion probiotics, 6 grams of fiber, 3 servings of greens, and enough antioxidants to equal 2.7 cups of blueberries. That's a lot of "punch" in a little package of only 135 calories.
One of the things to think about with plant-based powders is their ability to dissolve in liquids. Some are good, some are not so good. This powder is really good, and doesn't require blending in a blender. I just mix it in my Blender Bottle with 8 ounces of coconut milk beverage and off I go!
I have talked a bit in the past about my flaxseed sensitivity – I usually steer clear of anything with flax in it – but I have found that I can deal just fine with whole flaxseed that has been ground (like in this, and in the Amazing Grass). I just can't cope with flaxseed meal and my throat swells up a bit. This is a good discovery, as flaxseed is in so many things that are otherwise considered "healthy."
Overall, I really like this powder. I don't know that I will switch permanently from the Amazing Grass – but when it is on sale, I will definitely pick some up!