Friday Round-Up, 4/19/13
Wow, this has been an unusual week, huh? As a result, I have an unusual Friday Round-Up on tap. I'll be back with my normal links and other items next week, but today, we have to talk about what's going on in this country.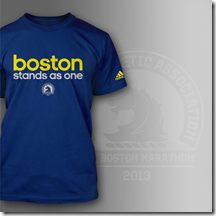 To all my friends in Boston, I know you are tough and resilient, and send you thoughts of comfort and condolence in the aftermath of terrible tragedy. Stay inside and stay safe until this is all over.
I am not — and will never be — fast enough to run qualify for the Boston Marathon, however, all running races and sporting events have been forever impacted by the events of this week.
For those that want to help, the BAA has said that people can purchase a limited edition T-shirt from Adidas, with all proceeds going to the One Fund Boston, which was set up to help victims of the marathon explosions.
To all my friends in Texas, I also know you are tough and resilient – they don't call it "Texas Tough" for nothing. It was a rough week for the Lone Star State as well.
My heart goes out to the victims and their families in the fertilizer plant explosion in West, Texas.I have very vivid memories of the town of West, which a small dot on the map north of Waco. When I was a kid, we frequently stopped to pick up kolaches from the Czech bakery in West en route to South Texas to see extended family, and it is a town bursting with pride about their Czech heritage. If you know Texans, then you know the citizens of West will rise up from the ashes and rebuild their town.
Update: 1:15 p.m. PT, 4/19: Moments after I pressed publish on this post, I found out that one of my good friends from high school lost her firefighter husband in this tragedy. She is pregnant with their third child right now, and I can't even fathom what they are going through. Small Texas towns bond together, and I'm very sure she and her kids will be taken care of, however, this tragedy became very much more real.
And, in an ironic and unsuspected twist, the alleged murderers in the Kaufman County, Texas DA murder casehave been picked up and put on $13 million bail. My family lived in Kaufman for much of my youth, so this story was one I was tracking. I remember a quiet, one-stoplight town, in other words, the last place you'd expect to see a case like this. I went to school with the Lt. Sheriff, Justin Lewis, and it was quite odd to see him on the national news as the spokesman in this case. This story is very twisted and unnerving – I'm glad they have found their suspects.
And with that, here's hoping for a better, more peaceful week next week. As always, thanks for stopping by, and, let's all be nice to each other!