Project: Food Budget–Week 14
This could also be titled, "The most boring food budget week ever!"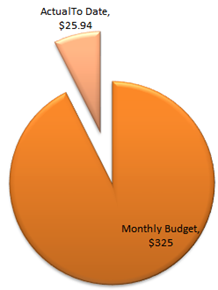 We are headed back to Bend from Seattle this weekend, so, stocking up was not on my to-do list, and I mostly just picked up 2Chili's staples. He gets cranky if he doesn't get his Trader Joe's Mini Wheats.
We have lots of fruits and veggies left over from last week, so I didn't really need to pick up anything perishable.
This means we were also super-duper under budget, especially because I bought the grapes and bananas at Target, where they are practically free. I don't really want to think about how Target can sell 1.5 lbs of grapes for $3.25 in the winter, but I do admit to picking up a bag. And, amazingly, they're very good!
Total for the week: $25.94.
Menu for the Week:
This week is all about easy and fast – and using things up!
Butternut Squash Soup with Rice (I just mix it all up – mmm, mmm good!)
Black Bean Soup
Veggie Burgers with Baked Potatoes
Flatbread Pizzas with Roasted Veggies
Budget Buddies
Emily Levenson
Dairy-Free Cooking
Red Pen Mama
Acquired Tastes
Fit Flexitarian
Warm As Pie
Katy Rank Lev
My Inner Healthy
Little Blue Hen
xox, b

What da Health?
Project Food Budget 2.0
A Nice Heart and a White Suit
Fresh…A New Chapter
Chandeleah
Two Eggs Over Easy
That's Just Me
Eat Whole Be Vital
Four Happy Violets
Naturally {Un}refined
Pgh Dad
yogabeautylife