Test Kitchen Tuesday: Café Flora Oaxaca Tacos–And a Giveaway!
Friends, as my father-in-law likes to say, it's dank in the Northwest these days. I mean, yes, I live in Seattle. It rains here. But lately, 2Chili and I have been feeling especially water-logged. We have received more rain already in March than in the entire month of February!
On a positive note, rainy weekends are a great time to hit the bookstore! Last Sunday, that's exactly what we did. I made a couple purchases, one of which was the Café Flora Cookbook. (The other, in case you care, is a Total Immersion swimming book See? Water on the brain!)
I think Seattle is broadly known for a handful of items: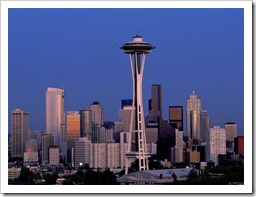 The aforementioned rain
The Space Needle
Pike Place Market
Microsoft
Coffee (Starbucks, natch, but Tully's is wayyyy better)
Airplanes
And, on a smaller scale in veggie circles, Café Flora
Just mention Café Flora to foodie-types and they begin to drool. It has a reputation for being that good.
I was excited to pick up their cookbook and knew this week's Test Kitchen would have to come from it. After perusing its pages looking for recipes that 1) didn't contain a majority of things 2Chili doesn't like and 2) consisted of ingredients I already had on hand, I settled on the Oaxaca Tacos and Black Bean Stew.
The main ingredients are russet potatoes (in the CSA box this week), corn tortillas (had in the freezer), red bell pepper (check), and black beans (in the pantry), plus some spices. It was a risk because 2Chili doesn't like black beans, and mashed potato tacos sounded a little odd, but, I had the ingredients, so I gave it a shot! And, it was incredibly good. Incredibly.
Before we get to that, let's talk giveaway! I enjoyed reading this cookbook so much that I reckoned my readers probably would too. So, I'm going to give away a copy as a token of my appreciation to you guys. Because you rock. And, because I am constantly amazed that people I don't know read what I have to say and have something to say back. It's pretty awesome.
The Details
The details are simple: Leave a comment below saying whatever you want. It can be why you want this cookbook, but it doesn't have to be. I would appreciate it, of course, if your comment is nice. But that is entirely up to you. I just need a way to know you are throwing your hat into the ring, so to speak.
If you wish to tweet or Facebook a link to this page, let me know that you have done so in your comment, and I'll give you an extra entry for each method of "socializing." Or, as we like to say in my techy marketing world, "amplifying."
To keep things simple, I will do a random drawing using random.org next Tuesday night and announce the winner in next week's Test Kitchen Tuesday post on Wednesday morning. Oh, I guess it is important to note that no one has donated the book, and I don't receive any revenue from this blog. I am funding this drawing out of pocket, for no other reason than because I want to!
In an ideal world, I would love whoever wins the cookbook to write a guest post – their own "Test Kitchen Tuesday," if you will – of their experience trying out one of the recipes in the cookbook. That's optional, but I would love if it the winner wanted to do it.
Now…On To The Food
Café Flora Oaxaca Tacos and Black Bean Stew
From: Café Flora Cookbook, pages 132-134; Also printed in The Seattle Times
Time Required:
30 minutes, if potatoes and beans are already cooked, longer if you need to cook beans and potatoes.
Note: While I work from home most days, I have client meetings on Tuesdays so am always in a pinch for time. To speed up the process, I boiled and mashed the potatoes in the morning so they were ready to go when I got home from work, and used rinsed low sodium black beans from a can.
Skill Level (out of 5): 


2Chili's Taster Rating (out of 5): 






2Chili really, really liked this. He even noted he quite enjoyed the beans, and he doesn't even "like" black beans.
The Cook's Taster Rating (out of 5): 






I think this is the most surprising TKT we have had yet. It sounds a little odd when you're putting it all together, but is amazingly delicious.
Nutrition:
Black Bean Stew (per 1/2 cup)

 
Oaxaca Tacos (2)  
The Verdict: YUM! Really, I wondered the whole time I was putting this together how well it would go over, but it was honestly so good. I am surprised at how tasty the tacos were based on what is in them and could seen using the black bean "stew" as a salsa or dip.
I should note that I didn't make the tangy chard because we didn't have any, which is odd, because we've had chard in our CSA box the last couple of times. 2Chili broke it down for me like this, in his very 2Chili way, "I could eat this again." That's about the best feedback I can get, so, I'll take it!
Good luck in the drawing! (Enter it! Your chances are good – trust me!)