Very Veggie Chili…with a Twist
First things first – Happy Valentine's Day! Today I have a recipe for something near and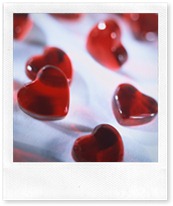 dear to my valentine's heart. He wouldn't be 2ChiliBreadBowl without chili, and I wouldn't be very with it if I didn't provide him his #1 favorite dinner from time to time.
Last week when we were on vacation in Utah, I made the mistake of suggesting that we eat dinner at a Jason's Deli by our hotel. Having grown up in Dallas, I was very familiar with JD, and remember them well for their large selection of salads and sandwiches. 2Chili, on the other hand, had never eaten at one.
My intentions were good, but I forgot one key piece of information: 2Chili does not do well in places he has never been before that have too many choices. He ended up ordering chili, (no surprise) but didn't pick up on the fact that it was called "Texas Chili."
After he ordered, I even questioned why he ordered the chili since it was Texas Chili, and he didn't realize what he had done! He thought he was getting the chicken chili that was also on the menu, but when he ordered just said "chili," which by default means Texas Chili. For those unfamiliar with Texas Chili, it's all meat and no beans.
Poor 2Chili was thoroughly disappointed when his dinner came, as he prefers mostly beans and not much meat. He had about two bites and couldn't stomach any more. To top it off, his bread bowl was stale, providing for a very disappointing dinner indeed.
I thought I'd remedy the bad Jason's Deli experience and cooked up a pot of veggie chili in Friday, and then let it sit in the refrigerator until Sunday. Like stew, chili gets better with age, and I learned some time ago to make it a day or two in advance to let the flavors really meld together. I usually let it simmer for 3-4 hours on the initial creation, and then for an hour or so when I heat it for eating.
I have been tweaking with my chili recipe a bit the last few times I've made it, and have finally stumbled on one that is worth sharing. There are a couple of secret ingredients in this one to make it a little more veggie and somewhat unique. Okay, they're not so secret – sweet potato and zucchini – but they're unique in chili…
We definitely gobbled this up!
Test Kitchen Tuesday's Very Veggie Chili
Downloadable Word Document Recipe
Ingredients:
1 tablespoon olive oil
1 small onion, chopped
2 cloves garlic, diced
1 bell pepper, any color, chopped
3 cups low sodium vegetable broth or stock
2 tablespoons chili powder
1 can (15 oz) or 2 cups cooked red kidney beans
1 can (15 oz) or 2 cups cooked white beans (AKA navy or cannellini)
1 cup cooked lentils
2 cups sugar plum or cherry tomatoes, chopped in half
1 medium or 1/2 large sweet potato, cut into small cubes (about a cup's worth of cubes)
1 medium zucchini, cut into quarters
1 can no salt added tomato paste
Method:
In a large stock pot, sauté onion, garlic, and bell pepper in the olive oil until onions are translucent

Add remaining ingredients in the order listed, and bring to a boil

Boil for one minute, and then reduce heat to as low as your cooktop will go (I set ours to "low simmer") and simmer for 3-4 hours, stirring occasionally. The longer you simmer, the better.

You can eat the same day, or, for even better chili, cover the pot and store in the refrigerator for 1-2 days, and then re-heat on the cooktop when you are ready to serve.
Nutrition:
Note: I made my version and calculated this info with dried beans. Your nutrients (mostly sodium) will vary if you use canned beans.