Plant-Powered Beet Burgers
Y'all know, I love a good pun. And, I have a lot of puns for today's post.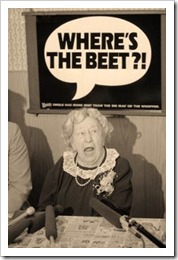 Where's the beet?
Beet: It's what's for dinner.
100% free range, grass-fed ground beet.
I could keep going all day, but you get the idea!
We  were in Bend last week and met some friends at a new restaurant called Next Level Burger. I had high hopes for this new vegetarian restaurant in town. Bend is a pretty progressive place, and there are no shortage of restaurants where we can dine, but a burger place is definitely welcome!
It was "good," but not "great," because while vegetarian (well, technically fully vegan), it was all really processed food. I was hoping for a good hand-made veggie patty, but, alas, it was pretty much a Garden Burger. And sadly, it was one of those places where the music was just WAY too loud, like most Chipotles, so it was hard to have a good conversation. So much potential…down the drain. For what it's worth, our absolute favorite veggie burger is in Seattle at Blue Moon Burgers. They make a handmade black bean burger that is phenomenal.
Which got me to thinking…
I can make interesting and whole-foods based plant burgers at home. There are so many varieties that there really is no end to the combinations you can create. One combo I haven't done, though, is a beet burger.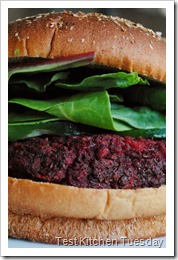 The first beet burger I had was at a restaurant called Plant Cafe in the Marina District of San Francisco. I didn't realize it would be a beet burger per se – I just ordered a "plant burger" and when it came out, it was obviously beet-based.
And that is a good thing.
Beets make a really great veggie burger. You're not going to convince a hard-core carnivore to put aside their ground beef for these, but, for open-minded eaters, they are very good. Even my finicky 2Chili likes these. Though, I have to dispel his reputation right now. Over the years, as I've put more and more – how shall we say? – non-mainstream meals in front of him, his tastes have really changed.
And that is a good thing.
I tell people all the time that once you start eating a whole foods diet, your tastes change. And, this is totally true. Junk food just isn't as good anymore, and you don't crave it at all. This works for anyone, including 2Chili, who gobbles this beet burger up with wild abandon. He ate a lot of beet burgers last week (as did I), as I worked on getting this recipe down for you guys. I waffled back and forth between using lentils and chickpeas, rice or breadcrumbs, an egg or an apple (yes, I was considering egg or apple for the binder). I settled on lentils, breadcrumbs and an egg, but I'll give you a rice option below if you want to make this gluten free.
I will offer this warning, as I always do when working with beets: Beets stain. If you're using stainable bowls, spoons, etc., use ones you don't care about. And, wipe up your mess with paper towels, not your favorite dish towel.
As much as I wish it were, this is not the type of burger you want to try to cook on the BBQ. It will just crumble to pieces and make a big mess due to the water content in the beets. I don't want you to have a big mess, so plan on either cooking on the stovetop or under the broiler (or how I do it: both).
Okay, so let's get down to it, shall we?
Wait! Before we get down to it – can you believe that big patty only has 131 calories, but 8 grams of protein? It does. Including the bun, which has 200 calories, you're into that burger for only 331 calories…Mind-blowing, huh?
Beet Burgers
Makes: 6 generous patties
Recommended Ninja Blender Jar:
Ninja Pulse: 40 ounce jar with standard blade
Ninja Professional Blender: 72 ounce jar with standard blade
Ninja Kitchen System: 64 ounce food processing jar with metal blade
Ninja Mega Kitchen System: 64 ounce food processing jar with metal blade
Ninja Ultima: 72 ounce jar with quad blade inserted
Ingredients:
1/2 large onion, roughly chopped
2 cloves garlic, roughly chopped
1 red bell pepper, roughly chopped
1 cup crimini or white mushrooms, roughly chopped
1/4 teaspoon salt
1/2 teaspoon garlic powder
1 teaspoon chili powder
1/4 teaspoon poultry seasoning (trust me, this works)
1 medium beet, peeled and shredded (if you have beet pulp from making juice, even better! – use about 1 cup and reduce the breadcrumbs by about half to start, adding little by little after that until you get a nice consistency)
1.5 cups cooked lentils (I buy these steamed at Trader Joe's)
1 cup fine breadcrumbs (I toasted 2 pieces of wheat bread and pulsed in the blender) or 1 cup cooked brown rice to make it gluten free
1 egg
Method:
Sauté onions, garlic, peppers, mushrooms, and spices until soft
Concurrently, peel and roughly chop your beet into "slabs", and use paper towels to blot out excess water; Grate the beet, either using the shredding blade on your food processor or a box grater
Add beets, onion mixture, and lentils to your Ninja Blender or food processor and pulse 15-12 times until combined
Add breadcrumbs or rice and pulse 5-6 times until combined
Pour into a large mixing bowl and stir in egg; Place in the fridge to chill for 30 minutes
Heat a skillet (I used a non-stick for this, even though I know there are better options) over medium heat, and prepare the patties as you would a normal hamburger – roll into a ball, flatten, and place on the heated skillet
These will be pretty wet from the beet, so be patient; You may have to reform them on the skillet using the spatula as you go – this is totally okay
Heat for about 7-8 minutes on each side, or until browned and most of the moisture is out of the middle; Then, add to the broiler for 2-3 minutes on each side to further brown. This is a play it by ear proposition – you may need a little more time if they still seem too wet
Note: Be careful when flipping and serving — these can be fragile; Once they're on the bun, you're good to go, but, exercise caution when moving them around!
After combining in the bowl, you should have a fairly well incorporated mixture that looks like this:
Nutritional Breakdown: