Happy Independence Day! Red, White & Blue Snow Cones
I remember the joy of being a kid and making snow cones with my Snoopy Snow Cone Maker (if you grew up in the '70s and '80s, certainly  you had one!).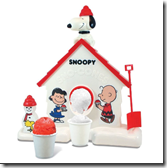 Put in a little ice, turn the handle, and out came snow. Brilliant!
Because it was Texas, and H-O-T, fourth of July always meant snow cone time (pure sugar water!). When Snoopy just wouldn't cut it anymore, there were ample snow cone stands to help beat the heat. For some strange reason, I preferred bubblegum flavor, though I would never order that at a snow cone stand today. Okay, truth be told, I would never order a snow cone today, but let's not split hairs.
Anyway, in honor of July 4th in a few days, I thought it only fitting to share a recipe for a DIY snow cone with red, white, and blue (strawberry, coconut, and blueberry) toppings that comes pretty much guilt-free with no icky chemicals and a pretty low calorie burden. You can make this in any Ninja Blender.
How to Make Snow Cones:
There are three steps required to DIY snow cones:
1) Make simple syrup toppings (do this in advance)
2) Make snow – Use this linked post for directions on making snow (basically, add ice to your blender jar and pulse until you have snow – takes less than 30 seconds)
3) Pour syrup on top of snow using a measuring spoon for more control
4th of July Snow Cone Simple Syrup Toppings
Making simple syrup is…simple!
We are basically going to repeat the same steps three times to get three different flavors of simple syrup to use as the topping. If you don't want to go through all the trouble of making three types of simple syrup, just pick one and save yourself some hassle. Do these steps in advance and have your toppings ready to go – just store the syrup in a glass bottle or container in the fridge.
Because I am who I am, we're using Stevia instead of table sugar as the sweetener. If you want to use table sugar, the formula is equal parts sugar, water, and fruit. Stevia is significantly sweeter than sugar, so you don't need nearly as much.
After much trial and error, I have determined that the formula I like best for Stevia is about 1 tablespoon Stevia in the Raw to 2 cups water, and about 1 cup of fruit. The syrup needs to be sweeter than you might think because the ice will dilute it. If you taste the simple syrup after making it, you will probably think it is way too sweet, but, when poured over ice, it's not.
To make the simple syrup:
Measure your water and Stevia, and bring to a boil in a medium saucepan
Add fruit, boil 10 minutes, and then reduce heat to medium-low and simmer for about 10 minutes until the fruit is mushy and syrup is fairly well reduced but not too thick (you will have to determine what is "too thick" for you, but it should be pourable); If too thick, add more water to get a consistency you like
Pour through a mesh sieve to strain out the solids, and let cool before using; You can save the solids to use on top of pancakes, put in smoothies, or spread on bread
Note: Be careful when working with the colored simple syrups, as they could stain your clothes and countertops. I did all my pouring for both straining and pouring over the ice over the sink
Strawberry Topping
2 cups water
1 tablespoon Stevia in the Raw
1 cup sliced strawberries
Coconut Topping
2 cups water
1 tablespoon Stevia in the Raw
1 cup unsweetened coconut flakes
Note about coconut: It will not get mushy like strawberries or blueberries, but the coconut flavor will come through
Blueberry Topping
2 cups water
1 tablespoon Stevia in the Raw
1 cup blueberries
Simply pack the snow down into the cup you will be using, and pour the refrigerated toppings over it using a measuring spoon (this gives you more control).
Enjoy, and Happy Fourth!