Raw Strawberries 'N Cream Pie
Can you believe it's officially summer? It sounds cliché, but I really can't. The season we yearn for most in the Northwest is short but wonderful. This time of year, in addition to large amounts of sunshine, we start to get some fabulous produce – namely fruits – in stock.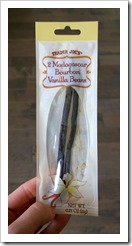 I picked up some gorgeous organic strawberries over the weekend at Whole Foods for a mere 3.99/pound, and knew they needed to become something great. Soon, this raw strawberry cream pie was born. It's fast to make and requires no cooking, so you don't have to heat up your kitchen to have a nice summer treat! It's also vegan and gluten free, though not necessarily low calorie, so some restraint will be needed to not go overboard!
I looked at quite a few recipes for raw strawberry pie before creating this, but all of them used some sort of nut in the filling, and since the crust needs to be nut-based, I didn't want to use nuts in the filling. Then, I remembered our good friend coconut cream and realized I could make a very simple filling with just fruit, cream, and sweetener.
For this recipe, I used a vanilla bean in lieu of vanilla extract in the crust which adds a nice vanilla flavor. You can get a 2-pack of vanilla beans at Trader Joes, if you have one. If not, just use vanilla extract and it'll be fine.
To use vanilla beans, simply cut a line down the length of the bean, and scrape out the insides with a spoon.
I used almonds and pecans in the crust because that's what I had on hand. You could go full almonds, full pecans, or, use another blend of nuts that you like. The real key with the crust is the Medjool dates – that's what holds everything together. It's sort of like a flat DIY Lara Bar!
Note: Be sure to use coconut cream for this recipe, not coconut milk. Here is a post I wrote on making coconut whipped cream, which uses the same coconut cream from Trader Joe's (you can also find at Asian food markets).
As usual, I had a little help with this recipe. Pipa loves strawberry tops (I give her the green part that I cut off the top), and I couldn't seem to get a photo of these berries without someone in the background hoping for her tops!
When I was able to pry the berries out of the sight of the doggie, they quickly became this:
Since it goes into the freezer to set up, you can either make it about an  hour before you want it, or, just let it totally freeze through and thaw before serving. Be careful when thawing, as it will get watery if you let it thaw too long. About 1 hour at room temperature or 3-4 hours in the fridge will do, if it's frozen through.
Thanks for reading and I hope you enjoy!
Raw Strawberries 'N Cream Pie
Makes: 1-8" pie
Time Required: 10 minutes to prep, 30 minutes to freeze
Suggested Ninja Blender Jar:
Ninja Pulse: 40 ounce jar with standard blade
Ninja Professional Blender: 72 ounce jar with standard blade
Ninja Kitchen System: 40 ounce food processor bowl with standard blade
Ninja Mega Kitchen System: 64 ounce food processor bowl with standard blade
Ninja Ultima: 72 ounce jar with quad blade inserted, or 64 ounce food processor bowl with standard blade
Ingredients:
For the crust:
1 cup almonds
1 cup pecans
1 tablespoon coconut oil
1/2 vanilla bean (filling of bean only), or 1/4 teaspoon vanilla extract
5 pitted Medjool dates
Pinch salt
For the filling:
1 can coconut cream
3 cups (1 pound) fresh or frozen strawberries
3 tablespoons maple syrup (or less, depending on your sweet tooth and sweetness of your berries)
Method:
For the crust:
Add almonds and pecans to the jar of your blender and pulse 7-8 times to combine (should be crumbly, like a meal)
Add remaining ingredients except dates and pulse 3-4 times to combine
Add dates one at a time and blend on low until the dough can be held together by pressing between your fingers
Press into a pie plate and place in the refrigerator while you make the filling
For the filling:
Refrigerate coconut cream for at least 1 hour before opening, and open from the bottom (there will be water at the bottom that you want to drain out)
Add cream to the blender jar and pulse 7-8 times to fluff
Add strawberries and syrup and blend on low (hold lid on Pulse to steady state blend) until the batter is fully combined
Pour into prepared crust and freeze for 30 minutes to 1 hour before serving; You can freeze completely, but will need to thaw before serving
Garnish with fresh strawberries if desired
Store in the freezer and thaw completely before serving, about 1 hour at room temperature or 3-4 hours in the fridge (What I did is let it set up, cut into pieces, and then just thaw a piece or two at a time as we wanted it)
Nutritional Breakdown
For 8 slices