Fruity Carrot Juice
I've officially gone off the deep end. No, really.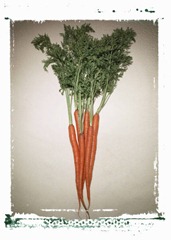 I made this juice a couple weeks ago, strained it, and then dehydrated the pulp with a little bit of pulp leftover from almond milk and put it on a salad. Talk about no waste!
I usually like to make "whole food" juices with the pulp and all, but sometimes, you just don't want pulp. I have found out that all that fiber can get to be taxing if you have multiple juices a day.
Ever since I saw Fat, Sick, and Nearly Dead, I have been drinking more juice, and experimenting with lots of different combinations.
Truth be told, most of the time, when it comes to juicing, I just throw whatever we have on hand in the blender and see what happens. But lately, a 5-lb bag of juicing carrots from our CSA has been the inspiration for a lot of different flavor combinations. Some have been good, some have been "blah." This one is good! I have made it several times now, and it doesn't disappoint.
This is a pretty sweet juice, so I like to have it after a big workout when I have earned the natural sugars. For what it's worth, my little "Carrot Monster" enjoys making this particular drink. This is an old picture, from the days when we had a finished house (those were the days!), but I love the little bit of carrot on her lip.
If you have a juicer, just throw the below ingredients in, starting with the parsley (if using) so the other ingredients clear it out of the juicer. But, if you have a Ninja, follow the steps below.
Fruity Carrot Juice
Makes: 16-20 ounces of pulp-free juice or closer to 30 ounces of whole food juice with pulp
Ingredients:
10 thin "juicing" carrots – if you have the tops, throw 'em in (any carrots will work, but if you have thicker carrots, go with only 6-7)
1 cup fresh pineapple
1/4 cup blueberries
1 apple
Handful parsley (optional)
12-16 ounces water
Method:
Add all ingredients to your Ninja Blender and pulse 4-5 times to combine, then, blend on "3" for 1-2 minutes until fully mixed; If you are going to drink this as whole food juice, err on the side of longer blending to get a very smooth consistency
Pour into a mesh sieve, nut milk bag, or other fine strainer and strain over a bowl, squeezing out as much juice as possible
If you want to keep the pulp, don't strain. You may want to add 4-5 ice cubes to make it even smoother and more palatable, but with that amount of water, it comes out fairly well combined as a thick whole food juice.
Note: I do not peel the fruits or carrots – the Ninja pulverizes them, so there is really no need to peel.