Raw Walnut Brownies
As you guys know, I just came back from vacation in Hawaii — which even though we about as far west as possible on the mainland — is not exactly a short trip!
One has a lot of time to think on a 6-hour flight, and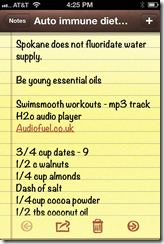 I came back with the notepad on my phone full of random thoughts, tidbits, and ideas. Some were recipe ideas, some were triathlon ideas from a podcast I was listening to, and some had to do with projects I wanted to complete around the house. Not at all linear, but, things I wanted to remember. Aren't you glad you now know that Spokane does not fluoridate its water supply? Ha!
Of the randomness on this list (and there is much more), this recipe is the one I wanted to get to first. As I was noshing on a "Pure" brownie bar on the plane, I realized my DIY Lara Bar base (dates and nuts) could work out as a raw brownie with a few additional ingredients. And, as a result, I present you with a 6-ingredient raw brownie!
I have called out the recipe for a small batch that makes 9 squares. I made this with the mini-prep bowl of my Ninja Mega Kitchen System, but you could scale this recipe as you like and make it in any of the Ninja blenders.
On a side note, if you want to get super healthy with these and add a little protein to the mix, try substituting a high quality chocolate protein powder for some or all of the cocoa. I like Plant Fusion these days…
It's been a while since I've had 2Chili taste test something, but I felt like these would be a home run for him. While he sort of turned up his nose at the name, he gave them a "hey, not bad," response. Let me translate that for you: "These are good, but I can't admit it." I thought that was worth sharing, because these would be an easy summer snack for the kids that you can feel good about, that won't heat up your kitchen, and that they will recognize as brownies.
Hey, not bad.
Test Kitchen Tuesday Raw Walnut Brownie
Ninja Pulse: 40 ounce jar with standard blade
Ninja Kitchen System: 40 ounce food processor bowl with standard blade
Ninja Mega Kitchen System: Mini prep bowl with standard blade; If not available, 64 ounce food processor bowl with standard blade
Ninja Professional Blender: 72 ounce jar with standard blade
Makes: 9 squares
Ingredients:
1/2 cup walnuts, chopped
1/4 cup almonds, whole
1/2 tablespoon coconut oil (does not need to be melted)
3/4 cup pitted Medjool Dates, about 9 (I buy these at Trader Joe's)
1/4 cup unsweetened cocoa powder (or chocolate powder of your choice)
Dash of salt (optional)
Method
Add walnuts, almonds, and coconut oil to your Ninja Blender or food processor jar
Pulse a couple times to combine, and then blend on "2" for about 30 seconds until you have a fine meal (do not take to nut butter)
Add dates, cocoa powder, and salt, pulse 2-3 times to combine, and then blend on "2" for 30-60 seconds, until fully combined

The mixture will be fine "beads" that are easily pressed together

Pour mixture onto a piece of foil or parchment in a cookie sheet or other cake pan, and gently press together with your hands. 

I found it easiest to pour onto a piece of foil, shape into a square, then fold the foil completely over the square, and then press the mixture together to form a solid block

Refrigerate for 1-2 hours, or freeze 30  minutes before serving
Store in an airtight container in the fridge for up to 5 days, or freeze for up to a month
Nutritional Breakdown: