Refreshing Watermelon Cooler
It's been a while since we've had a blender recipe, huh? Well, I aim to change that this week!
After a long winter, it's so fun to see the new crop of produce start to roll in, including many summer fruits. We have started having warmer days in the Pacific Northwest (even hitting 80! very rare!), and cool drinks are welcome for a change.
Last weekend I picked up a baby watermelon at Trader Joe's, unsure how I'd use it, and alas it turned into this simple watermelon slushy, made in an effort to cool down from the "oppressive" heat. What can I say? We are thin skinned around here, and anything above 50 degrees feels like a heat wave.
The resulting beverage is low calorie — under 50 calories — and reminds me of summer in a glass.
For what it's worth, baby watermelons are nice because it's quick to remove they rind and they usually don't have the heavy black seeds in them, but any watermelon will do for this recipe. If you want to go crazy because you had a bad day (or a good day, I suppose), I'm pretty sure some rum would go well in this recipe (sub out equal amounts of sparkling water to the amount of rum you add). But, fair warning, a little rum will change the calorie count significantly…if you care!
Watermelon Cooler
Serves: 2
Recommended Ninja Blender Jar: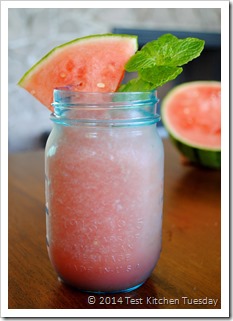 Ninja Pulse: 64 ounce pitcher with standard blade
Ninja Professional Blender: 72 ounce pitcher with standard blade
Ninja Mega Kitchen System: 72 ounce pitcher with standard blade
Ninja Kitchen System: 72 ounce pitcher with standard blade
Ingredients
2 cups chopped watermelon, rind removed
1 cup sparkling water or seltzer (I used lime flavored Talking Rain – but use what you prefer)
2 packets Stevia in the Raw (or preferred healthier sweetener…please no white sugar!)
2 cups ice
Method:
Add all ingredients to the jar of your blender, and pulse 3 times to combine
Blend on "2" for about 20 seconds, until all of the ice has been finely pureed
Nutritional Breakdown