How to Hide Greens in Smoothies: Put Them in Something Red & A Red "Green Smoothie" Recipe
There was a day when I couldn't understand why anyone would put anything green in a smoothie. It just didn't jive.
And, then one day, I did it. I added spinach to a smoothie.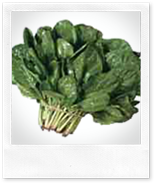 And, I didn't notice it in there.
And, I felt pretty darn good afterwards.
Since that fateful day, I have thrown caution to the wind and put all kinds of greens in smoothies, ranging from the standard spinach and kale, to chard, collards, sprouts, and anything else you can think of that is leafy and green. I have even put broccoli stalks in smoothies – and they're good!
Even though I have come to love green smoothies, I have always said they don't have to be green. Sometimes, no matter how excited we may be about a green smoothie, a loved one may not be so excited or interested to try said concoction. Sometimes, we have to be creative, especially when feeding kids (or, in my case, a finicky husband).
The best way to make a green smoothie that isn't green is to mask it with red ingredients. Well, honestly, to really make sure, put a little bit of a raw beet in whatever you're making on top of whatever else red you're using. Beets make a great "food coloring," and you don't need much at all to change the color of your smoothie from sorta-red to really, really red.
So, next time you're compelled to add some greens to your smoothie – or your kid's, or your spouse's – and don't really want to know they're in there – throw in 1/2 – 1 raw beet, and poof, green no more!
Here is an example for you of a filling and super nutritious green smoothie meal replacement, that comes out, well, beet red. There are about 550 calories in this, so it's not a snack, but is a great way to start your day!
Raspberry Beet Green Smoothie
Makes: 1 drink
Best Ninja Jar Choice:
Ninja Pulse: 40 ounce jar with standard blade
Ninja Professional Blender: 72 ounce jar with standard blade
Ninja Kitchen System: 72 ounce jar with standard blade
Ninja Mega Kitchen System: 72 ounce jar with standard blade
Ingredients:
8 ounces unsweetened almond milk (or milk of your choice)
2 handfuls chopped spinach or kale
1/2-1 small beet (raw, but peeled)
1 cup frozen raspberries
1/2 avocado
1 small frozen banana
1 scoop Amazing Grass Amazing Meal (vanilla)
Small chunk of fresh ginger
Sprinkle of dulse powder (if you have it, no worries if not)
Method:
Add milk and kale to the jar of your blender until combined
Then, add all the remaining ingredients; Pulse 4-5 times to begin blending, and then blend on "2" (hold down Pulse lid) until you reach a consistency you like, probably about 1 minute)
Nutritional Breakdown
Made with Trader Joe's unsweetened almond milk and using the 1/2 beet portion.