Big Salads for the Win!
When it comes to salads, many Americans think the formula is: Iceberg lettuce + ranch, end of story. No wonder a lot people don't think you can have salad for a meal!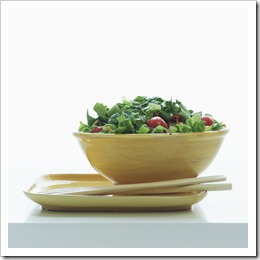 In truth, building a salad for a meal – a good salad – is a bit of an art form, but there is some method to the madness. Today, I'm going to share my formula with you. There is no iceberg lettuce or ranch involved!
I have eaten a big salad for lunch just about every day since November, when I set out to battle hypothyroidism without meds. You don't hear me talk about hypothyroidism anymore because I identified it early and successfully squashed it. At 36, have truly never felt better.
I really believe the turn around in my mood, energy levels, and just overall zest for life is due to a dietary shift I made and have stuck to. I ditched the gluten, shifted focus to nutritional values over calories, and have generally cut out the extra junk. I already ate pretty well by most people's standards, but, taking it up a notch made all the difference. And, the foundation of that shift is my daily big salad.
Truth be told, this big salad discovery was a bit of an accident. I was doing the Be Well cleanse, and the only way I could figure out to eat according to program guidelines — while simultaneously not having a kitchen – was to do it in salad form. I ended up really digging my big salads. Pure serendipity.
To make a lunch salad that you can take to work, obtain a durable reusable bowl/container that holds 6-8 cups. You want to have room so you can shake it up to distribute the dressing without needing a ton of dressing. I buy a lot of pre-washed/prepared fruits and veggies for convenience sake. You certainly don't have to do this, but I find it worth the little extra cost at this time in our lives.
Here is the simple formula, and I go into much more detail below.
1-2 handfuls greens + 1 handful sprouts, herbs, and fungi + 2 handfuls chopped fruits and veggies + 1 serving protein source + 1-2 servings healthy fat + 2 tablespoons homemade dressing+ any optional spices/powders/add-ons you like.
Here is a snapshot of my lunch from the other day. As you may be able to see, we were at Subway. I just bring my own food (and fork) and buy a drink (unsweetened iced tea) so 2Chili can have his daily sandwich. Since we both work from home, getting out of the house is fairly important.
Big Salad Formula
Foundation: 1-2 handfuls greens
Spinach
Baby lettuces
Romaine
Swiss chard
Kale, any variety
Collards
Mustard greens
Turnip greens
Beet greens
Or, even a blend – I typically use a blend of chard, collards, and mustard greens
Foundational Support: A handful of sprouts, herbs, and fungi
I like to support the greens with a bit of flavor/crunch. I usually just put in a little bit of this/little bit of that to add up to about a handful.
Micro-greens
Bean sprouts
Alfalfa sprouts
Kimchi
Pea shoots
Mushrooms, any variety
Fruit and Vegies: A rainbow of chopped veggies and fruits – 2 handfuls
This completely depends on what is available and in season, but I usually add 3-4 items (chopped)  from the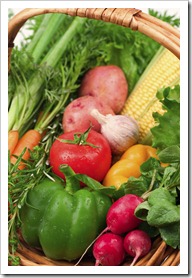 below. This is of course not an exhaustive list of veggies and fruits, so go with what you like and is available!
Veggies:

Bell peppers
Cucumbers
Carrots
Beets
Shredded cabbage
Broccoli
Radishes
Celery
Rhubarb

Fruits:

Mangoes
Blackberries
Blueberries
Strawberries
Apples
Pears
Pineapple
Oranges (any variety)
Bananas (really)
Note: I have been buying the Trader Joe's Healthy 8 chopped veggies from the cooler section. This saves a lot of time chopping! It is also good in stir-fries.
Protein: 1 portion of a protein source
If you eat meat, this is your place to add what you like. I eat mostly vegetarian, so no meat here. But, I do add one serving (sometimes two or a mixture) of the following:
Steamed lentils
Beans of any kind like kidney, garbanzo, pinto, white, black, etc.
Hard boiled eggs
Hummus
Seasoned tofu or tempeh (if you eat soy)
Healthy Fat: 1-2 servings
This is key to making your salad stick with you, and it makes it taste so good too! If you are watching your weight, just keep an eye on portions, as this fat is definitely good for you, but it does have a high caloric density.
1/4 – 1/2 Avocado
Nuts: 2 Tablespoons –Walnuts, cashews almonds, pecans
Seeds: 2 Tablespoons – Sunflower, hemp, pumpkin, ground flax
Coconut products: I love the Roasted Coconut flakes from Trader Joe's and often sprinkle some on salad
Olives: Black, green, or Kalamata, they're all good!
Dressing, Cheese, and Other Flavorings
Making your own salad dressing is super, super easy, and so much better for you than store bought. There are a ton of recipes out there, but here is my tried and true simple dressing.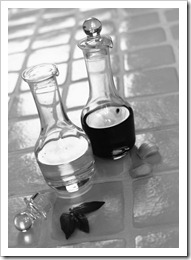 I go with 2 Tablespoons, and then shake, shake, shake the container to get everything evenly coated.
Other items to consider are:
Cheese, if you eat it – I like crumbled feta or goat cheese, but the options are almost endless
Spices – I sprinkle cinnamon over the whole salad before shaking. Cinnamon is a fantastic flavor booster and has lots of health benefits; I also sprinkle ginger over the salad as well, which is both tasty and helps fight inflammation
Nutritional support. This is the bucket for things that don't really fit in the other categories! A sprinkle Dulse Powder adds iodine, a vital nutrient that helps pull heavy metals out of our bodies, and doesn't add any flavor. A tablespoon of cacao nibs adds crunch and lots of antioxidants.
Once you have all your items in the bowl, put the lid on, shake well, and prepare to enjoy a great, healthy, nutritionally-balanced meal.
The sky is truly the limit as to what you can put in your ultimate salad. I make mine different every day to keep things interesting, but usually follow the framework above.
If you use a tracker like MyFitnessPal, you'll be amazed at how many of your RDAs are achieved after inputting just one salad. It is better than any vitamin or supplement you could take for getting your body what it needs to serve you best.
Enjoy!