Quick Tip: Spend Less at Whole Foods
Even though I have been actively and conscientiously participating in Project: Food Budget, one thing I have not done is clip coupons.
I am not a coupon snob (though I do think those "extreme couponing" folks are taking it too far). I just don't typically buy items for which manufacturers print coupons. You don't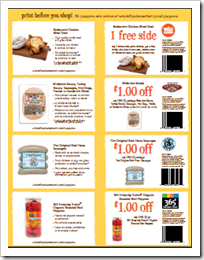 often see a coupon for fruits, veggies, organic dairy, or nuts and legumes.
However, over the weekend I stumbled on something that I had no idea existed: Coupons for Whole Foods Market. I had popped in to eat lunch while 2Chili was off working at a client's on Saturday, and when I was dutifully sorting my plate into compostables and recyclables (no trash, yeah!), I saw a flyer that looks a lot like the Trader Joe's newsprint flyer called the "Whole Deal." But, this one is distinctly different from Trader Joe's flyer.
This one has coupons specifically for WFM. And, there are some good ones in there. There are two parts to the "the  best part is" statement I wanted to write:
You can download and print the coupons from wholefoods.com/coupons
The window of acceptability is several months, so you don't get into that hurry that happens when coupons expire quickly.
Right now they have several good ones, including $1 off 2 Lara Bars, $1 off honey, and $1 off any Method item (I love their hand soap).
So, there you have it, an easy and painless way to save some cash at Whole Paycheck.
Am I the only one who didn't know about this?