Test Kitchen Tuesday: Thai Halibut With Coconut Curry Broth
I love Thai food. 2Chili, notsomuch.
But, as we've discussed in the past, I'm pigheaded, and, I make what I want – within reason – especially for our test meal on Tuesdays. There are so many "not approved" foods that I would never have anything I want if I abided by all of them!
This week's Test Kitchen Tuesday comes from Healthy Appetite with Ellie Krieger on the Food Network. Ever since Lifetime stopped showing Frasier re-runs during the 6 a.m.-7 a.m. hour (my coffee/breakfast/prepare-for-the-day time), I have been watching the Food Network to start my day (like right now…) It's kind of weird to watch shows that are usually focused on dinner during your breakfast, but, it does give me some ideas for trial dinners! I saw this on Monday morning and thought it would be a good meal to try out.
We don't eat a lot of meat, poultry, or fish – so I thought a halibut dinner would be something different. One thing I realized right away is wow, fish is expensive! One 8 oz fillet of wild caught Pacific Halibut was $12.49. The recipe calls for serving this with brown rice, but I used Quinoa because I didn't have any already made and didn't want to wait 50 minutes. It also calls for steamed spinach, but I had snap peas in my CSA box that worked fine…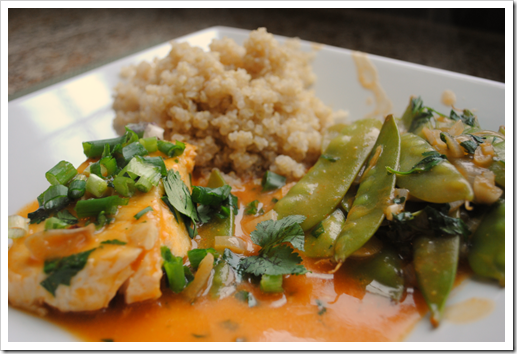 Thai-Style Halibut with Coconut-Curry Broth
Original Recipe: Healthy Appetite with Ellie Krieger
Skill Level (Out of 5): 

Time Required: 30 minutes, start-to-finish
2Chili's Taster Rating (Out of 5): 



2Chili liked the way the fish was cooked (it was moist and flaky) but he didn't like the cliantro. That's a 2Chili issue, not a problem with the recipe. It should be noted he doesn't really like Pico de Gallo for the same cilantro issue…
The Cook's Taster Rating (Out of 5):




This was so easy and tasty. I didn't give it a 5 because it is different from what you'd get in a Thai restaurant, so it was not quite what I was expecting. It wasn't quite as rich as something like a red curry dish – but also doesn't come with the same calories! I really liked the cilantro.
Nutrition:
As directed in the recipe, without the rice. 46g of protein if you go with 6 oz fillets as prescribed – that's pretty incredible!
The Verdict: In general, this was an easy and fast recipe. I think this was the best at home fish we have ever had. I couldn't get the sauce as thick as I thought it should be, so there was a lot of sauce left over. I would probably add some diluted corn starch at the very end next time to thicken up the sauce. 2Chili said he'd eat it again without the cilantro, but we probably won't have it too often because of the cost of fish, and, we just don't eat "meat" products that much. But overall, we liked it!