Clean Eating Oatmeal Raisin Cookies
Today, let's talk about B-A-NA-N-A-S!
Why all the hullabaloo about bananas? Here, let me tell you:
They are versatile – they replace sugar and fat with ease, and when frozen, can become any multitude of tasty treats
They are affordable (bananas are the #1 selling item at Wal-Mart above all else – did you know that?!).
They taste good, and, they're good for you
Much like a utility player on a baseball team, they are  not really the shining star in their field, but they are reliable and there's not much the humble banana cannot do.
In fact, bananas can let you have your cookies and eat them too.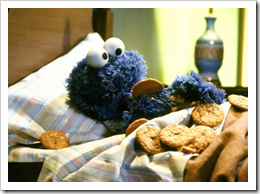 What do bananas have to do with cookies? With just a few ingredients, you can turn bananas into very clean oatmeal cookies.
There are a lot of variations of the clean eating banana-oatmeal cookie out there. This one is an adaptation of the one found in the 21-Day Fix recipe guide. While we're on the topic, I owe you a review on the 21-Day Fix – it's coming, I promise! (Preview:  I really like it!)
These cookies are simple, fast, and will have you saying "Me Like Cookies" in no time!
Be warned, these are not going to be like a traditional oatmeal cookie – there just isn't enough fat in them for them to be like what your grandma used to make. But, for those with an eye on health and a smaller sweet tooth, they will hit the spot!
Clean Eating Oatmeal Cookies
Makes: 12-13 small cookies
Time required: 15 minutes
Ninja Pulse: 40 ounce jar with standard blade
Ninja Professional Blender: 72 ounce jar with standard blade
Ninja Kitchen System: 40 ounce food processor bowl with standard blade
Ninja Mega Kitchen System: 64 ounce food processor bowl with standard blade
Ninja Ultima: 72 ounce jar with quad blade inserted, or 64 ounce food processor bowl with standard blade (works best if you have the food processor bowl)
Ingredients:
2 ripe medium bananas, mashed  (you want them to be very ripe)
1 cup old-fashioned rolled oats
2 teaspoons ground cinnamon
1/2 teaspoons salt
1/4 cup raisins or dried cranberries
1/4 cup chopped raw walnuts, pecans, or other preferred nut
Method:
Preheat oven or toaster oven to 350.
Place bananas in the jar of your Ninja blender and pulse until mashed – 3-4 times
Add oats, cinnamon, salt and pulse 4-5 times to combine
Add raisins and nuts and pulse 4-5 times to combine
Drop by tablespoon-full onto prepared cookie sheet and flatten with a spatula (they will not spread out on their own, so if you don't flatten, they'll stay puffy)
Bake 10-15 minutes until browned
Nutritional Breakdown
Per cookie, based on 13 cookies.