Ninja Ultima Review Part 2–Make Your Own Almond Butter
This is part 2 of my Ninja Ultima blender review, so, if you haven't read part 1, you can check that out here. However, this review is more of a story than a review, and it could also be titled, "If at first you don't succeed, try, try again." Because, on the first attempt at this, I completely failed. Don't worry, it has a happy ending, so keep reading!
Generally, I recommend soaking, rinsing, and drying nuts prior to making nut butter (except peanuts – they are not nuts, and if you soak them you could grow toxic mold – bad idea). This method of soaking, rinsing, and drying, softens the nuts and also removes the natural enzyme inhibitors on the nuts, making them easier to digest.
What it doesn't do, apparently, is let almonds blend smoothly in the Ninja Ultima blender. (I have only ever made almond butter in the Ninja Mega with the food processor bowl). To cut the story short, on my first try, I achieved a great big F. Failboat with a capital F!
But, determined to not be beaten by a machine, I took another stab at making almond butter, this time, with a slightly different tact: Roasted almonds. Fresh out of almonds, I marched on down to the local Albertson's in search of bag of almonds to try again.
Standing in the nut aisle, taking stock of the situation, I saw there was only one bag of plain roasted almonds left on the shelf. The top shelf. As I went to reach for it, a small elderly woman, not 5'5" tall whipped her arm up and snatched the almonds! Argh! What to do?!
Luckily, there was another variety of almonds at the ready: Toasted coconut almonds. I had never heard of or seen toasted coconut almonds, but I am hear to tell you –. they are incredible. This goes against everything I have said for years: Soak the nuts! Rinse the nuts! Or even better, sprout the nuts!
Sometimes, you just have to go nuts and have the flavored almonds.
Anyway, moving along to the point of this post, when it comes to almond butter, there are really two camps: Those that love it and those that hate it. Nary a person falls in between, it seems.
Almond butter haters, I really can't help you!
But, almond butter lovers, this post is going to change your world!
One main drawback to almond butter over peanut butter can be a simple matter of economics. Almond butter is generally quite a bit more expensive than peanut butter. While you can find it at Trader Joe's for a decent price, you might have to take out a loan to buy a jar of almond butter just about anywhere else.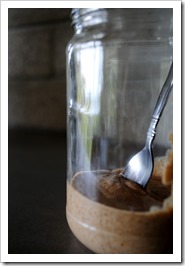 Therefore, I thought a good demo to show the prowess of the Ninja Ultima blender would be how to make one's own almond butter from scratch.
After my first attempt failed, I did a little homework on the Ninja site, and saw that in addition to using roasted/toasted almonds, they recommend not using the quad blade for making almond butter, so, I tried just using the bottom blade at first. That didn't really work that well either, as a lot of almond dust clumped on top of a layer of almond butter on the bottom, so, I put in the quad blade and that worked great. It just took a little trial and error to sort this out, and it was worth the effort.
Bottom line: Can you make almond butter in the Ninja Ultima? Absolutely. Should you? Absolutely.
Making Almond Butter in the Ninja Ultima Blender
Ingredients:
Scale as desired!
1 cup roasted or toasted almonds
1 tablespoon coconut oil
Dash of salt, if desired
Method:
Add almonds to the blender jar
Pulse until finely chopped – 8-10 times
Add oil to blender jar. Note that I didn't bother melting it.
Turn the speed dial to "low" for BL800 or "3" for all other models and blend for about a minute. You will notice that the motor will rev and seem like it slows down and speeds up. This is totally fine. This picture was taken after about one minute of blending. You can see that there is a creamy texture on the  bottom, and almond dust sitting on top. (I took out the quad blade so you could see it better.)
Begin to increase the speed. Move to medium for BL800 and about 4-5 for other models, and blend for 30-45 seconds. You will start to see an almond butter consistency form inside the jar.
Increase the speed to "high" on BL800 or 8-9 on other models and finish blending for about 30 seconds, or until you reach a consistency you like. (Again, I took the quad blade out for this picture).
Store in an airtight container in the fridge. I just happened to have an old almond butter jar (I save them all), so, into a jar it went. Note that the almond butter will come out fairly warm, so you will want to let it cool a bit before putting on the lid.
Try to keep yourself from eating it all immediately. Seriously. This is a legitimate concern with how good this is. One cup of almonds after blending:
One cup worked so well, that I went ahead and did another cup for good measure, so this is two cups of almonds after blending:
And with that, I bid you adieu. I'm off to inhale enjoy some almond butter.