What Do You Want Tested in the Ninja Ultima?
Friends, it's here. The long awaited, long anticipated, Ninja Ultima Blender.
I had been on the fence whether or not to buy this blender since its debut around the holidays last year – as you know, I have no affiliation with Ninja and buy everything I review retail – but ultimately decided to give it a whirl.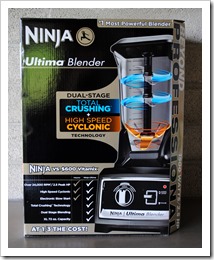 This makes the fourth Ninja Blender in the quiver, which honestly, I keep buying so I can give you guys non-biased reviews and answer your every blending question.
Now that I have it, what do you want me to make with it as part of the upcoming review?
I will definitely do a green smoothie to answer the most important question, "How well does it puree greens?" But, what else do you want to see?
I'll give you the first-glance impression so far, after unboxing: This thing is stout. The base is heavy, and, the pitcher is very reminiscent of a Vitamix pitcher. The blade design is a cross between a traditional blender and the special Ninja blades that go up the middle, which I expect to be stellar.
Here is one sneak peek from the upcoming review – a side-by-side photo of the Ultima next to its little brother, the Ninja Mega.
I expect to put this blender through its paces for a couple of weeks, and hope to get you a review in early June.
Please let me know what you want tested in the comments, and I'll get after it!