Healthified Frozen Hot Chocolate
Apparently frozen hot chocolate is a pretty big deal. As I pushed the great big rock I've been living under off of my head, I was introduced to this fact in New York City at Serendipity 3 last week on vacation.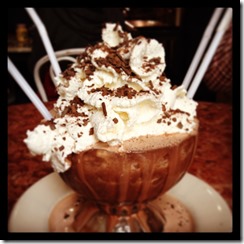 Every table in the joint had one of these fishbowl-sized concoctions, with straws pointed in every direction. It seemed half of the tables even ordered it before their real food. We walked up and got a table right away, but by the time we were leaving, there was a 45 minute wait, and most people were after frozen hot chocolate on a very cold day in the city! (Photo credit to my SIL, Heather).
A light bulb instantly went off in my head and I knew I had to healthify this for you guys. You can buy Serendipity frozen hot chocolate mix from Amazon, which states it uses 14 different types of cocoa powders, but the very first ingredient is sugar! And, we know what that means – it's mostly sugar! Here is a version that is a much better for you treat. And, let's be real, can one really discern 14 different types of chocolate?!
In researching how to make this frothy frozen delight, I came across a video on YouTube with the "actual" Serendipity recipe, which called for 1/3 cup granulated sugar for 2 servings, not counting the chocolate. 1/3 cup!!! To put that in perspective, 4 grams of sugar is 1 teaspoon, and there are 16 teaspoons in 1/3 cup, or 256 calories of pure sugar in the actual recipe. Holy sugar high, Batman. I am worn out just doing the math on that one!
Here is my take on frozen hot chocolate. The vanilla powder is important for sweetness, so if you don't have it, you may need to increase the maple syrup to your taste. Note that this is still a treat, so I don't recommend having this one for breakfast, mmm-kay?
Healthier Frozen Hot Chocolate
Recommended Ninja Blender Jar:
Ninja Pulse: 64 ounce pitcher with standard blade
Ninja Professional Blender: 72 ounce pitcher with standard blade
Ninja Mega Kitchen System: 72 ounce pitcher with standard blade
Ninja Kitchen System: 72 ounce pitcher with standard blade
Makes: 2 servings
Ingredients:
1/2 cup full fat (or light) coconut milk (the only ingredients should be coconut and water)
1 cup almond, rice, or hemp milk
2 tablespoons unsweetened cocoa powder
1 tablespoon cacao powder
1 tablespoon pure vanilla powder
.75 ounce quality solid chocolate bar of your choice, melted (I'd recommend at least 72% dark chocolate, but if you don't like dark chocolate, go with what you like, as long as it is a high quality bar)
2 tablespoons grade A pure maple syrup (or Stevia to taste)
Pinch of salt
2-3 cups ice
Method:
Add all ingredients into the jar of your blender
Pulse 5-6 times to combine
Blend on "2" for about 30 seconds until fully combined
Serve topped with real whipped cream or coconut whipped cream and a sprinkle of coconut and cacao nibs, if you have them
Nutritional Breakdown:
For recipe as listed, not including whipped cream.