Creamy Non-Dairy Mashed Potatoes, and an Easy Way to Store Leftovers
It's Thanksgiving Week, and, you're probably either rushing around figuring out menus, or, sitting back and relaxing because someone else is doing that and you just have to show up with a smile and eat.
Today, I have a two-parter for you, no matter which of the two above scenarios apply.
Part 1: How to store mashed potato leftovers so that you can easily have mashed potatoes any day of the week with no prep time. So, when no one wants to take home the potatoes, you can happily snap them up.
Part 2: A creamy mashed potato recipe that needs no dairy and tastes every bit as good as potatoes loaded with butter and cream.
Part 1: Maximize Your Mashed Potatoes
I have a fondness for ice cube trays. But, not those cheesy new-fangled trays that crack to pieces after one or two uses. I'm all about the sturdy ice cube trays from my youth, that were built to last, like these.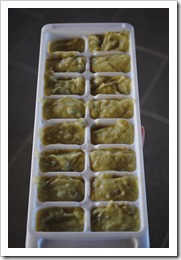 But of course, I don't use them for making ice. Ice cube trays are handy for a lot of things, mostly to do with creating convenient smoothies. But, one day, when thinking about storing some left over mashed potatoes, an idea hit me: What if I portioned mashed potatoes into ice cube trays, froze them, and then stored in a freezer bag?
I'll tell you what happens! You can have mashed potatoes in any portion size any night of the week in about 5 minutes. As Paula Deen would say, BOOM, y'all!
Just take out as many cubes of potatoes as you want, add to a pot, heat over low heat and, voila, your mashed potatoes are back to life with a little bit of stirring. If they turn runny in this process, you'll want to thicken them back up with a thickening agent, which runs the gamut from arrowroot powder to a roux to cornstarch (just be careful, almost all cornstarch is GMO).
You'll wan to let your family know that the ice cubes are not indeed ice, or you may get a quizzical question or two, or even just a statement, as I did.
"I presume this is not ice, like the time my orange juice wasn't juice," was what my finicky hubby had to say when he spied these cubes in the freezer.
For the record, I told him, no, it wasn't ice, and, that juice mix-up was an innocent mistake years ago when I put freshly-made vegetable broth in an old orange juice container. Ha!
Part 2: Creamy Non-Dairy Mashed Potatoes
I did a little poll on my Facebook page a while back to see what type of diets you guys favor, and, not surprisingly, vegetarian, Paleo, dairy-free, and gluten-free were all top lifestyle choices. So, for Thanksgiving this year, I thought I'd share with you my non-dairy mashed potatoes that you'd never know are non-dairy, which meet all of the above selections (though I know they are on the fence for Paleo).
The secret to this recipe? My favorite: Avocado.
I know what you're thinking, "but won't it turn my potatoes green?!"
The answer is, well, yes, very slightly. But, we're not talking The Incredible Hulk kind of green. Just a very faint hint of green. And, the result is very much worth it. These potatoes can compete with any mashed potatoes made with dairy any day!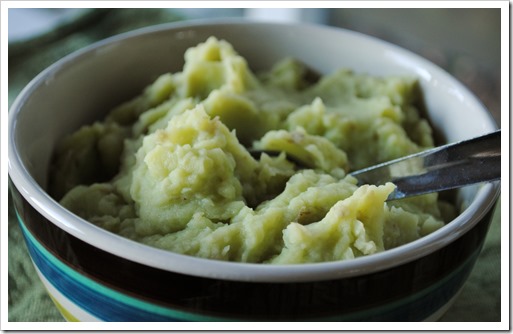 Non-Dairy Mashed Potatoes
Makes: 4 servings
Suggested Ninja Blender Jar
Ninja Pulse: 48 ounce jar with standard blade
Ninja Professional Blender: 72 ounce jar with standard blade
Ninja Kitchen System: 64 ounce food processor jar with standard blade
Ninja Mega Kitchen System: 64 ounce food processor jar with standard blade
Ingredients:
3 cups roughly chopped potatoes of your choice (I prefer Yukon Gold for this), skin on
1/2 Hass avocado
2 TBS to 1/4 cup preferred unflavored non-dairy milk (I use almond milk)
Salt to taste
Method:
Boil potatoes in a medium pot until soft, about 15 minutes
Drain, and add to the jar of your Ninja Blender
Add avocado and 2 Tablespoons milk
Pulse 3-4 times to combine, and then blend on "1" (hold lid on Pulse) until the desired consistency is reached, probably 45-60 seconds
If more milk is needed, add, then pulse 4-5 times to combine
Taste, and add salt as needed, probably 1-2 pinches
Nutritional Breakdown