Some Like it Cold: Fruity Oatmeal Juice
If you're like me, you think of oatmeal as one of two things: A piping hot breakfast cereal, or, the base for cookies. Or, if you're adventurous, perhaps, as a flour replacement when ground into a fine meal.
I'm here to tell you, oatmeal can be so much more!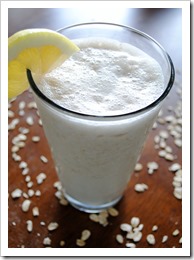 I have to thank reader Ross for spurring on this post and suggesting a juice recipe that I would have never thought of in a million years. As Ross explained, his upbringing in the Caribbean introduced him to juice made with oatmeal, something I had never heard of before. This is why you guys are so great – you leave the most amazing comments full of your unique ideas and perspectives. I'm only one person with one perspective, and your diversity of background and inquisitive questions have driven more than a few posts around these parts. So, thank you Ross, and thank you all for your engaging dialogue in the comments of this blog. I read them all, and, they mean so much to me.
With that lead in aside, I took Ross' suggestion and tried out his mother's fruity oatmeal juice, also called Jugo de Avena.
The version below has a TKT spin on it to utilize the Ninja Blender, of course, but you can make this in ANY blender. The end result was surprisingly frothy and delicious – similar in taste and texture to an Orange Julius type drink, though I used lemon as my fruit choice. If you want a different juice in the morning with a taste of the Caribbean, give this a try!
Fruity Oatmeal Juice
Recommended Ninja Blender Jar:
Ninja Pulse: 40 ounce jar with standard blade
Ninja Professional Blender: 72 ounce jar with standard blade
Ninja Kitchen System: 72 ounce jar with standard blade
Ninja Mega Kitchen System: 72 ounce jar with standard blade
Serves: 2
Ingredients:
1/2 cup coconut water (or plain water) for soaking the oats
1 cup milk of choice (I used unsweetened vanilla almond milk, but use what you prefer)
Juice from two lemons, or three limes, or one orange
Drop of pure vanilla extract
1.5 cups ice
Sweetener to taste (suggest honey, pure maple syrup, coconut sugar, maple sugar, or liquid stevia)
Method:
Combine oats and water in a medium bowl, cover, and soak for about 20 minutes until the oats soften up (you could soak overnight if you wanted to save time in the morning)
Add soaked oats and milk of choice to the jar of your blender, and blend on "2" for about 60 seconds until fully combined (hold down lid for Ninja Pulse)
Add ice, juice, and vanilla extract, and blend on "2" for about 60 seconds (If using dairy milk, add only ice first and blend, then add juice and vanilla to prevent curdling)
Taste, and determine if you want to add any sweetener, and add to your tastes and pulse a few times to combine (Because I used coconut water to soak the oats, I didn't feel the need for added sweetener – so definitely taste first)
To make it easier to extract juice from the fruit without seeds, I just squeeze them over a mesh strainer into the blender jar
Nutritional Breakdown
For 2 servings made with unsweetened vanilla almond milk and no added sweetener.