You Put SPROUTS in a Smoothie?
Oh, yes, yes, I do.
Today's green smoothie is brought to you by mung bean sprouts. You probably have seen these many times before, even if you didn't know they were specifically mung beans, as they are pretty much the go-to source of "sprouts'" for Asian cooking.
Mung beans sprouts are packed with lots of nutrition – including protein – for a very small price. Even at Whole Foods, they are not expensive, with one bag setting you back about $1.99. These little sprouts are high in protein, fiber, amino acids, and vitamins A, B-6, C, E, and while they are fun to eat on top of salads, once they are blended, they are indiscernible.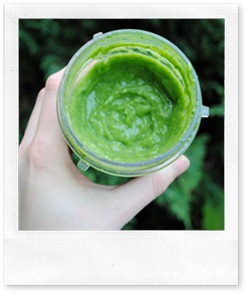 Below is my current go-to morning drink. This has almost half your daily RDA of potassium, which is significant since most Americans are potassium deficient (bananas alone will not cut it). It also has 5X your RDA of Vitamin A, 2.5X your RDA of Vitamin C (from real food, not synthetic vitamin C which is essentially useless to your body), and 20% of your daily iron and calcium – all from veggies! It will also keep you full until lunch due to the healthy fat from the avocado and 16 g of fiber.
If you are looking to get your new year off to a healthy start, consider starting your day with a green smoothie. You'll be amazed how good you feel, how clear your thoughts are, and how much focus you can have when you put the right fuel in your body.
Ingredients:
3/4 cup coconut water (Don't have it? Sub a non-dairy milk)
2 handfuls chopped kale (about 1.5 cups)
1/2 avocado
1 ripe medium pear
Juice from one lemon
Handful mung bean sprouts (about 1 cup)
1/2 cup frozen mango or other frozen fruit of your choice
Best Jar Choice:
If you are using a standard blender, this will work just fine in it, but if you are using a Ninja, here are my recommendations:
Ninja Pulse: Single serve cup
Ninja Professional Blender: 72 ounce jar with standard blade
Ninja Kitchen System: 72 ounce jar with standard blade
Ninja Mega Kitchen System: Single serve cup
Method:
 If using the single serve cup, add coconut water and kale, and blend until combined. Then add avocado, pear, lemon juice and sprouts, and blend until combined. Finally, add frozen mango (or other fruit) and pulse to combine, then blend until smooth. If too thick, add a little more coconut water.
If using the 72 ounce pitcher or a standard blender, add all ingredients to the blender jar, pulse 4-5 times to begin blending, then blend on "2" (or medium speed) until thoroughly combined. If too thick, add a little more coconut water.
Nutritional Breakdown: