The Great Ninja Blender Q&A
I get a lot of questions about Ninja Blenders. This is not surprising, since the main search terms people use to find Test Kitchen Tuesday have some variant of "Ninja Blender" in them!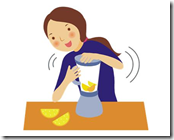 I thought it might be worthwhile to do a big roundup that contains the most common questions I get to save current (and future) readers time from scanning the hundreds—and even thousands—of comments on this topic. If you have a question I don't address below, please leave it in the comments so we can get it answered. Odds are if you have the question, so does someone else.
So, without further adieu, let's get to it, shall we?
Can any of the Ninja Blenders make hot soup? Nope, unlike a Vitamix, the Ninja does not heat up the ingredients as it blends. You can definitely blend hot soup in it, but, you can't start with cold ingredients and end up with soup.
Are the single serve cups from one model compatible with another model? Unfortunately, no. The single serve cups are specific to the model they come with. For example, you can't take a single serve cup from a Ninja Pulse and use it in the Ninja Mega. And, if your unit wasn't designed for single serve cups, you can't buy the single serve cups and have them work. This is a total bummer.
Do I need the mini prep bowl for the Ninja Mega Kitchen System? This is totally personal preference and where you plan to buy the NMKS. The mini prep bowl comes with the model sold at Bed, Bath & Beyond, Amazon, and, sometimes, Target. If you buy directly from Ninja, you likely won't get the mini prep bowl (unless you pay extra). If you make lots of food processor recipes in small batches (like baby food), you will find it valuable. As with all Ninja Blenders, the Ninja Mega works best with volume – so, if you're just making something small, you may have a hard time blending in in the 64 ounce food processor bowl. However, if you don't care too much about small batches, you probably won't miss it.
Can you use X/Y/Z part from one Ninja model on another? In general, the answer here is no. The parts are unique to their specific models. I think this I a huge fail on the part of Euro Pro, but, then again, this is just my opinion.
What are the Ninja Blender jars made of? They are made of BPA-free plastic and are dishwasher safe. Be sure to put the lids on the top rack, or they could melt (I speak from experience).
How do the plastic jars hold up? For the most part, the plastic jars are very durable and hold up well in the dishwasher. You have to be careful removing the blade, though, as that is where the potential to create scratches in the jar occurs. Pull the blade straight up to remove – that way the sharp blade doesn't come into contact with the plastic of the jar.
How do the Ninja Blenders (any model) compare to a traditional blender/Magic Bullet/Nutrilbullet/fill-in-the-blank type blender? One of these days, I may do a huge showdown between the gamut of blenders on the market. But right now, I can tell you there are pros and cons to all types of blenders. The Ninja Blender family will blend the stuffing out of just about anything you can think of, and they will do it quickly. The unique blade design running up the center means you get quick mixing of very hard ingredients without any "jamming." However, this blade design can also be a detractor, as it can be hard to get green smoothies totally smooth without any green bits (it is possible, you just have to add ice and blend a little longer than you might expect). The power on the machines is more than ample, and once you go to this kind of power, it is hard to go back. I had to blend some things in a traditional blender at a rental house recently, and it was highly frustrating! It's sort of like driving a Porsche for a while and then driving an electric car!
Have you tried any of the recipes from the Ninja folks? No, I honestly haven't! I have read through the recipe booklet that comes with the Ninja Mega KS, but I eat a little differently than the mainstream audience that Ninja must target. Therefore, none of their recipes are terribly appealing to me. I just make mine up as I go, and then share them with you!
Can you make bean/nut/rice/wheat flour with the Ninja blenders? Absolutely, yes!
Can the Ninja blenders make juice? Ah, this is a highly debated topic. The answer is yes, you can make juice with any of the Ninja blenders. But, how you do it can vary. If you like pulp, you can add 5-6 ice cubes to your fruits and veggies before blending and get "whole food juice." If you don't like pulp, you'll need to add water before blending and then strain before drinking. Some people don't mind this step, some people do. If you are going to juice a lot (daily), I would probably recommend buying a dedicated juicer.
Can the Ninja Pulse do what the more powerful Ninjas can? For the most part, yes. I have used my Ninja Pulse to make all my smoothies, nut butters, and a plethora of blending projects. It's main differences are the smaller size of the jar, blade design (4 blades instead of 6), and the fact that you can only "steady state" blend on one speed, which I would say is comparable to level "1" on Ninja Professional blenders. It is way more powerful than most traditional blenders, and the smaller size is nice for a small apartment or dorm room.
Update: 4/5/13
I can't get my blender to start! There is a blinking red light, but it won't blend – what's wrong? For Ninja Professional Blenders, the odds are you have the lid on slightly wrong. There are two arrows you need to line up: one on the lid itself, and on the handle. The blender won't blend until the lid is on with those to arrows aligned.
Are any parts of the Ninja Blenders microwave safe? No, there are no microwave-safe parts. You can blend hot foods in any of the containers, just don't microwave.
And those, friends, are the most common questions I get. Have I overlooked yours? Let me know in the comments!