Making Cashew Butter with the Ninja Mega Kitchen System
Welcome to Part Three of my in-depth look at the new Ninja Mega Kitchen System. Instead of one super long review, I decided to break up the review and create a variety of items that use all aspects of the system to really "kick the tires," so to speak.
################################################################################
I have made plenty of nut butters in the Ninja Professional blender (most popular: peanut butter) so, today I sought out to make something I haven't made before: Cashew Butter. And, to make it even more complex, I used raw cashews. This would also provide a fairly decent comparison between making nut butter in the 72 ounce blender jar (all I had before) to using the smaller, more food processor-type jar that comes with the Ninja Mega KS. For this project, I made sure to use the 24 ounce "mini prep" bowl, so I could give that a good shake-down.
I have to say, making nut butter is faster – by a lot – in the Ninja Mega with the food processor blade/jar.  Of course, some of this is to do with I was using cashews, which are a bit of a softer nut. I also think some of it is due to the blade design (closer together blades) and the smaller volume of the jar.
Here's a little tutorial on how I went from raw cashews to creamy cashew butter in less than 90 seconds. (82 seconds, to be exact). If you want to do this with a food processor or Ninja Professional or Ninja KS, just follow the steps with what you have available!
Homemade Cashew Butter
1 cup cashews of your choice
1 tablespoon oil of your choice (I would recommend coconut, light olive oil, or walnut for the healthiest choice)
1 teaspoon sweetener of your choice (I went with unrefined coconut sugar)
Directions:
1. Soak cashews. This step is optional, to be honest. But, since I was working with raw cashews, I went ahead and soaked them for a couple hours in the morning so they would be ready when I wanted to blend in the afternoon. Simply put one cup of cashews in a small bowl, cover with water, and walk away.
2. Assemble the 24-ounce mini prep bowl
If you are doubling or tripling the recipe, skip this step and just use the 64 ounce bowl and blade.
| | |
| --- | --- |
| Place the 64 ounce bowl on the base and insert the plastic spindle.  | Place the 24 ounce bowl in the 64 ounce bowl, making sure to seat it well |
Place the blade for the 24 ounce bowl over the shaft, again, making sure it is seated well – you should see all of the metal portion of the shaft once it's inserted. If you don't, wiggle it around to get it seated. If you're not sure, do a test fit with the lid before you add your ingredients.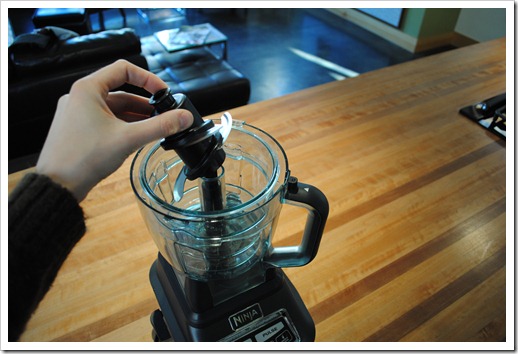 3. Add Ingredients (1 cup cashews, 1 tablespoon oil, 1 teaspoon sweetener).
Note the fully visible metal portion of the shaft! This is critical to making sure the lid will lock.
4. Pulse to combine, then blend on "2" (Blend) for about 90 seconds, or less, until you get a consistency you like.
The key is to use speed "2″ and no higher. Blending on "3" does not make it go faster and doesn't get you a creamy result. Trust me, I tried this speed first and had one batch that didn't come together at all.
Want to see it in action? I made a short video that picks up about halfway into the blending, to save you the madness of watching the whole thing. It is not a good video, but it is a video nonetheless! I left the volume true to how it really sounds so you can get a feel for loudness.
As a side note, I made this while 2Chili was out on a bike ride, and he came back as I was filming this video. He had a lot of questions:
Why are you filming?
Why are you timing and filming?
What is that?!
He also noted, "I always know I'm at the right house when the whir of the blender welcomes me back home."
Indeed.
########################################################################
Just So You Know: I have absolutely no affiliation with the Ninja Kitchen folks. I bought this system for my own purposes and to share my honest thoughts with you about its performance. I receive no compensation or consideration for my opinions.