Juicing with the Ninja Blender, Part 2
When I wrote this post on how to juice with your Ninja Blender, I had no idea the life it was going to take on. The post covered how to make simple, one-fruit/veggie juices. But, since that time, I have tried out more complex juices with multiple ingredients (fancy pants!).
Right now, my absolute favorite juice is the Kale, Pineapple, and Ginger juice from the Dr. Oz 48-hour cleanse. It truly tastes good!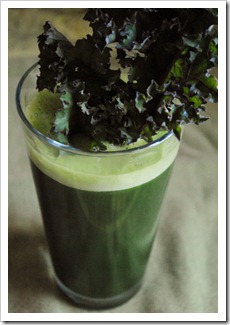 Since the original recipe makes four servings, my take on it is the following:
One cucumber, chopped into chunks
1/2 cup pineapple
3-4 kale leaves (I am lazy so I leave the stems)
5-6 mint leaves
Small chunk of fresh ginger
1/2 a lemon, squeezed
The instructions for this are the same as the originally were, but to recap, it goes like this:
Add all ingredients into your Ninja Professional Blender, roughly chopped
Add 6-8 ounces of water
Blend for about 60 seconds on "3"
Strain with a mesh sieve, nut milk bag, or fine-strainer of your juice
Drink!
I know some folks don't want to go through the hassle of straining.
I get it.
However, I think straining after blending with the Ninja is easier than cleaning a juicer. That is just my opinion!
If you are getting tired of one-fruit or one-veggie juices, give this juice from Dr. Oz a try. You will wake up your taste buds and do some good for your body at the same time!