Debra's Delicious Juice
When I started writing about recipes I created in my Ninja Blender, I really had no idea what was in store for this blog's future. The recipe posts for Ninja items have sort of taken on a life of their own, but no more so than the How to Juice with your Ninja Blender post.
The irony of it all is that I am not really a huge juicer. I make orange juice or apple juice from time-to-time when I need them for a recipe. 2Chili is the juice drinker in our family, and he is very particular about his juice – it pretty much has to come from a carton and be spiked with sugar.
However, readers occasionally post their juice recipes in the comments section of that juicing post for others to try. Since there are so many comments on the post, I think they can sometimes get lost in the shuffle. When Debra posted a recipe in the comments a while back, I asked her permission to post it as a "real" post so that everyone could reference it without having to read through all the comments. And, so, today I bring you that juice!
This really is a drink of amazingness – the nutritional profile is fantastic. This would be a meal replacement juice as it yields A LOT of juice (64 ounces) and has a little more than 300 calories. It also has more than half your daily RDA of fiber. If you are not crazy about the taste of celery, I recommend leaving that out, as it definitely is noticeable in this juice.
A lot of folks have commented that they do not like to strain their juice, and, with this recipe, you don't have to strain. You'll have a thick consistency – but very drinkable – power juice!
You are correct about this having the possibility of being a meal replacement. I bring it to to work take the place of lunch, mid morning and afternoon snack.

–Debra
Debra's Delicious Juice
Serves: 1
Time Required: 10 minutes or less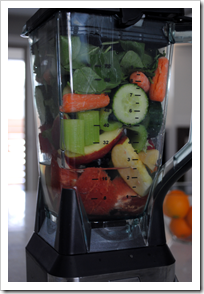 Ingredients:
1 grapefruit, peel and pith removed
1 green apple, chopped, peel on (I used a red apple because I didn't have any green apples)
1 small piece of ginger, peeled
1/2 English cucumber, chopped
4 stalks of celery hearts
1 cup carrots, chopped
3 handfuls of spinach
16-18 oz water
Updated December 2012: If you add 4-5 ice cubes and blend until smooth, you will get a less "pulpy" mixture!
Method:
Add all the ingredients to your Ninja Blender and blend until you reach a smooth consistency
There is no need to strain this juice, but if you don't like pulp, you can strain with a mesh sieve
Nutrition:
For unstrained juice.