500,000 Page View Celebration–I'm Giving Away a Ninja Pulse
There comes a time in every person's life when you realize you've found your niche. There are things we are each good at, and things we each like to do but areless good at. And, try as we may, we can't always force-fit the things we want to be good at into the forefront and actually be good at them! Trust me, this one I know all too well. If I had my way, I'd run a 24-minute 5K. As it happens, 29 minutes is my reality. But, what I lack in athletic ability, I make up for in other areas that someone who can run that 24-minute 5K probably lacks in.

It's the way of the world.
When you accept who you are and your reality, life gets infinitely easier, as you are not always struggling to be a different vision of you. This doesn't mean you stop doing things you are "less good" at that you enjoy. It just means you learn to appreciate your place in the world.
As it turns out, my place in the world – or at least on the internet — revolves around a blender. The Ninja Professional Blender, to be exact. Recently, I've been doing a lot of asking myself if that is who I want to be. There is only so much one person can write about blending, and, I have somewhat written myself into a corner where blending is pretty much the only thing people want to read about from me!
I certainly didn't set out to become the "Ninja Blender blog." I simply had an accident where I broke my glass jar blender and sought to replace it. The Ninja Professional Blender was the best replacement I could find with my budget of about $100, and, I liked it! So, I wrote a review. And then, I wrote a few recipes. Then, those few recipes turned into a LOT of recipes and other tips for getting the most out of your Ninja Blender. Now, my humble little blog is staring down the lens of half a million page views. If you search Google or Bing for "Ninja Blender Recipes," this blog is the number one organic listing – meaning the first non-ad listing – you'll get. TKT ranks higher than the official Ninja Blender website, which baffles my mind. In fact, if you're reading this now, that's probably how you got here!
I originally created TKT as an outlet to talk about new recipes I was trying as we took on a more healthy eating lifestyle and moved off the Standard American Diet. It was a time of exciting life changes, and I thought I'd reach a few people, but it was really more of a diary for me. I was happy if anyone else wanted to read.
When I realized things were picking up steam with more and more people visiting, I switched the original Test Kitchen Tuesday over to WordPress self-hosting from the WordPress free-hosting so I could have more control over the look and feel of my site.That was in mid-April of 2011. In about two weeks time, someone will be the 500,000 th page viewer to my self-hosted site.
That, my friends, is humbling.
But the truth is, I have been battling internally about whether or not to keep this blog going or let it go into self-sustaining mode. I have questioned my purpose in the blogosphere quite a lot. You see, there are much better food blogs with much more adventurous and creative recipes. There are wittier and more clever writers. There are fantastic bloggers who have formal training it diet and nutrition. Against the backdrop of other people's reality, I shouldn't be successful at food blogging. But amongst my uncertainty and questions about what I want this blog to be, the answer to my deepest question keeps coming to me daily – in the form of comments, questions, praise, and even some criticism, as there will always be people you can't please. The answer has become clear that for now, the blog must go on. I just enjoy you all way too much to hang up my keyboard!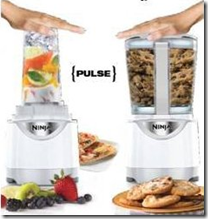 In the meantime, we have a celebration to do. Much like a grocery store celebrates its milestone visits with a big giveaway, I decided to say thank you for all of your support with an apropos giveaway – a Ninja Pulse blending system!
This giveaway is not sponsored or funded by a large company. It is just me, saying to you, thanks. Whenever you click an ad or follow my Amazon link and make a purchase, you support this site and help pay the hosting fees it takes for me to keep it running. And, whenever you send in a comment or question that drives a topic for a post or simply just lets me know you are enjoying the site, it makes me smile.
Since I reckon we have about two weeks until that magical 500,000th person swings on by, I'm going to run this contest for about two weeks. All you have to do to enter is leave a comment below and tell me the first thing you would make with a new Ninja Pulse. Or, why you want it. Or, what you want me to write about in future posts. Or, your favorite recipe you have created for your blender…or, anything you really want to tell me – just leave a comment with some substance.
That's it! It's just that simple. On June 15, I will decide who wins. In lieu of a random drawing, I'm going down the road of "style matters." Meaning, make it convincing and you could be the owner of a snazzy new Ninja Pulse.
And with that, I wish you good luck!