Creamy Red Lentil and Cauliflower Soup
This week, I am going it alone in Bend while 2Chili tends to some business in Seattle.
I realized I never really explained why we do a split life in two places – I noted that we bought a house in Oregon and that was that. We decided to buy a second home in Oregon as a getaway, and while we knew it would be a challenge, we were ready to spread our wings a little. We are both impatient types, and having been finished with our latest remodel for a couple years, we were getting kind of bored and wanted a new adventure of sorts. Bend offers all of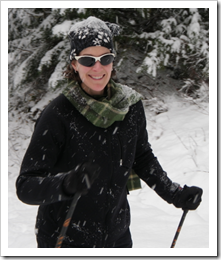 the sporting activities we both love: Close-by alpine and cross country skiing, extensive mountain biking (perhaps the best in the country), and enough road biking options to keep us both endlessly amused on our bikes. It is also only about a 6 hour drive or 45 minute flight from Seattle.
Our professional lives are most definitely in Seattle, so, that's why we do what we do. Sometimes we're together in Seattle. Sometimes we're together in Bend. And, sometimes we're in totally separate locations altogether, depending our our work demands. Truth be told, I think we both enjoy a little "alone time" from time-to-time. After 10 years together, it is healthy to maintain one's individual identity. Plus, it lets us each eat what we want without guilt!
It is very cold in Central Oregon right now, and I want soup! 2Chili has a "hot liquids" aversion, so soup doesn't fly around our house very often.
I wanted a lentil soup, but, couldn't find a recipe that met my requirements completely: Veggie broth base and lentils –- no bullion cubes, no bacon, no chicken stock, no bones, and no fancy ingredients! Alas, I made one up – and it is <ahem> – if I do say so myself, soupertasty!
And, because it uses red lentils, it comes together a in a flash. In a slight contradiction of my objectives, red lentils are more of a specialty, I suppose, but you can find them at Whole Foods Market. In fact, there is a coupon this month for $1 off.
Creamy Red Lentil and Cauliflower Soup
Makes: Approximately 5 servings
Ingredients
1 small sweet onion, chopped
2 cloves garlic, diced
1 tablespoon olive oil
1/2 teaspoon cumin
1/2 teaspoon chili powder
dash of garlic powder
1/2 teaspoon Italian seasoning
1/2 teaspoon kosher salt
1.5 cups red lentils, rinsed and drained
6-7cups low sodium vegetable broth (Make your own – it is easy and free!)
1/2 head of cauliflower
6-8 baby carrots
Method
Heat oil in a large pot over a medium/low flame
When oil is heated, add onions and garlic and sauté until soft and fragrant
Add all spices, 6 cups veggie broth, and lentils. Bring to a boil and then reduce to a simmer for about 20 minutes
Meantime, chop 1/2 of a head of cauliflower and steam with baby carrots until cauliflower is just tender
Add the steamed cauliflower and carrots to the soup mixture and continue to simmer for about another 20 minutes, adding more broth as needed and using a wooden spoon to break up the cauliflower into smaller bits
Ladle 1/2 of the soup, including all of the carrots, into a blender and puree until smooth. Return the puree to the soup and combine.
Serve with a dollop of Greek yogurt or sour cream for an even creamier soup
Nutrition
For 5 servings, a little more than one cup each. This is calculated based on store bought low-sodium broth, which is still high in sodium. If you make your own broth without salt, each serving only has 175 mg of sodium.