Peanut Butter 'N Oats "Clif" Bars
Did you have a good Memorial Day weekend? I hope so!
For ours, we did a lot of yard work and weeding,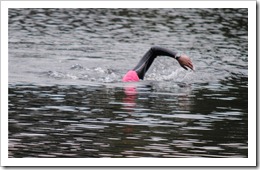 and I had plenty of exercise on tap leading up to Boise Ironman 70.3 in two weeks. I finally got in an open water swim, which was very, very cold – the lake was 56* F!
I'm now in the home stretch, and officially starting the "taper," which means I get to reduce the length of my workouts from here on out. There are still plenty of sessions, they're just shorter. And, I'll be visiting the lake quite a bit in these last two weeks – gotta get ready for the icy swim leg in the big race!
In the meantime, I concocted a new energy bar somewhat on accident. I had three jars of almost used up peanut butter (seriously, why??) that I put to work with some oats and dates and it came out almost exactly like a peanut butter Clif Bar, but with just three ingredients. This made five bars, but of course I had to eat one to make sure it was good – and, it was hard to stop at just the one!
Peanut Butter 'N Oats Energy Bars
Makes: 5 bars
Ingredients:
1 cup pitted dates
1/2 cup peanut butter
1/3 cup rolled oats
Method:
In a high speed blender or food processor, blend the dates until they are broken up considerably, but not totally pureed
Add peanut butter and blend until combined
Add oats and pulse to incorporate; If your mixture seems dry, add a little more peanut butter. You want it to hold together, not be crumbly
Pour out onto wax paper or foil, and, roll into 5 equal balls
Flatten balls and form into somewhat oval shaped bars
Store in an airtight container in the refrigerator
Nutrition: