Ahhh…Aqua Fresca
Something fantastic happened in Seattle over the weekend: Summer Arrived! While I know most of the country has already had warmer (and even hot!) temps, we have been shivering in our polar fleece around here throughout the spring. So, in a nutshell, we. are. thrilled. Just don't let it get too hot…'cause we are also wimps. I guess we're a little demanding, too, huh?
With warmer temperatures comes sitting on the deck weather, and this drink is just perfect for deck sitting, front porch swinging, stoop lounging, or, where ever else you choose to do your lazy spring/summer day relaxing.
Aqua Fresca is a popular Mexican beverage that can be made from a variety of soft, sweet fruits. Hit any open air market in South Texas in summer and you'll run into vendors selling the sweet, refreshing beverage made with cantaloupe, watermelon, and even mango. When I stumbled on a nice looking cantaloupe at Trader Joe's, I snatched it up and immediately knew its future. It lasted less than five minutes in the house before it became aqua fresca.
Funny that I just asked you guys for some blender recipe guest posts and ended up writing one immediately after that! But, don't let that dissuade you – I would love to have some guest posts, so, bend my ear on what you blend, 'k?
You'll notice I enjoyed my beverage in the shade – see, wimp!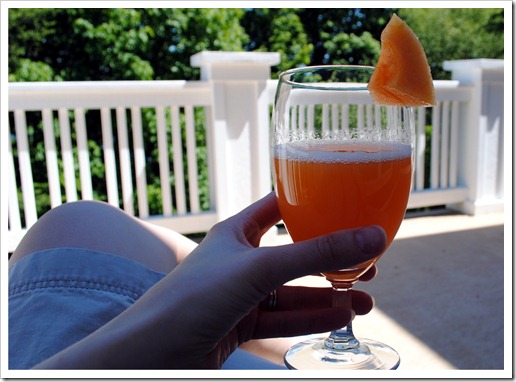 Also, I went pretty light on the sugar for ours because the cantaloupe was nice and sweet. Use your judgment here and also do a little taste testing as you go to get your mixture how you like it!
Aqua Fresca for Two
Time Required: 10 minutes
Skill Level (out of 5): 1
Makes: 2 servings (can be doubled or tripled…or…choose your exponent!)
Ingredients:
1/2 large cantaloupe, peeled and seeded
3/4 cup water
1.5 tablespoons sugar (to taste, up to 1/4 cup)
1-2 tablespoons lime juice (to taste)
Method:
Puree cantaloupe in a high speed blender or food processor (30 seconds on level 1 for Ninja)
Strain puree through a sieve, pushing down with a spatula to extract as much juice as possible – you should have about a cup of juice.
Add water and sugar and stir – taste test to see if you need more sugar
Add lime juice and stir – start with 1 tablespoon and taste test before adding more
If you plan ahead, you can freeze the remaining pulp in an ice cube tray and have cantaloupe ice cubes!