Endurance Fuel: Coconut Energy Bites
Before we get to today's recipe, I have to let you guys know about some excitement around our house last week. On Friday, I was boiling some water when the cooktop decided it wanted to try and start a fire by producing a spontaneous explosion! Thankfully, I was able to shut off the gas to the burner as well as the supply line, but it was a startling experience, let me tell ya! So, until we can get it fixed, my cooking endeavors look a little something like this:
Funnily enough, this little $15 hotplate is very effective, and has not tried to burn my house down. So much for the high-end Dacor cook top…! (And, while we're on the topic, I have now talked to my fair share of people trying to get it fixed. Warranty issues are never fun!)
Anyway, back to the topic at hand: Energy bites!
For the last six weeks or so, I have been easing back into training for my big race this summer, Ironman 70.3 Boise. But, this past weekend, it started to feel more like I remember from last go-round – long efforts in all three sports separated by an effort to refuel, recover, and get back out the door. Saturday held a 2200 yard swim followed later by a 7.5 mile run, and Sunday was a crazy Cross-Fit like endeavor where I biked 5 miles as fast as I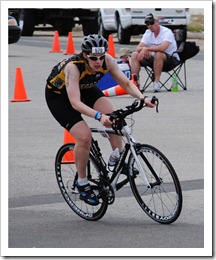 could on a spin bike, hopped off, rowed 1000 meters as fast as possible on the rowing machine, and then repeated five times before hitting the weight room for a circuit training set. Let me tell you, those bike/rowing intervals were crazy! But, they're effective any they break up the monotony of sitting on the spin bike for a long period of time.
While this is what my typical weekends will look like from now until June – except with more volume each week – I love it!  When you start exercising for long periods like this, though, nutrition becomes incredibly important. Specifically, post-workout nutrition is key. While I am not usually that hungry immediately after a long effort, I know from past experiences that if I skip that post-workout snack, I will be ravenous in no more than an hour and my ability to make smart choices goes out the window.
And so, this weekend, when planning post workout snacks, these energy bites were born. Your body burns sugars most efficiently after a workout, so I usually try to time anything that is higher in sugar during this window. It's my time to eat (natural) sugar and not feel guilty in the slightest!
Warning: These little balls pack a lot of calories into a small package by design. I offer this warning because it is nearly impossible to eat just one of these. I had four after my run on Saturday! If you want to make them lower calorie, leave out the brown rice syrup, and you'll save 25 calories per ball.
Seriously, though, I cannot stop eating these, and made a second batch yesterday. Someone please come take them from me…now!
Coconut Energy Bites
Makes: 14 balls
Time Required: 10 minutes
Ingredients:
1/2 cup raw cashews, soaked 4 hours, drained and rinsed
1/4 cup brown rice syrup
13 pitted Medjool dates
1 cup raw oats
1/2 cup shredded coconut, plus more for rolling if you wish
Optional: 1/2 cup dried cranberries
Method:
In a Ninja Blender (recommend 40 ounce bowl) or food processor, blend the cashews and brown rice syrup until combined, stopping to push down the pieces of nuts if needed. You don't need to get this into cashew butter – just chopped up fairly well
Add the dates, oats, and coconut, and blend it until the mixture comes together in a big "blob"
Pour out onto a sheet of wax paper or a clean surface, and further combine any dry bits by hand. If you are adding cranberries, at them at this time
Use a knife and cut off small sections at a time – roughly 1 inch by 1 inch – and roll into balls with slightly damp hands
Pour some extra coconut into a bowl or small plate and roll the individual balls through the extra coconut, if desired
Store in an airtight container in the refrigerator
Nutrition:
Per ball, without cranberries: