Guest Post: Raspberry Maca and Wheatgrass Smoothie
Friends!
I am excited to bring you another quest post today, this time for a power smoothie that is sure to do your body some good. If you have never tried Maca powder, I urge you to give it a shot – it is amazing how good it can make you feel. You may have a hard time finding it in "normal" stores, but that's where the Internet comes in. Our pals at Amazon have pretty much everything on the planet, including Maca powder. The brand I use is Navitas Naturals, and a 16 ounce pouch will last you a long time, as Maca is definitely one of those items you use by the teaspoon, not the cup.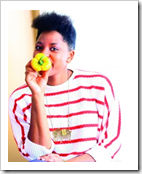 Today's guest  post is written by Bianca from Vitality Guide for Women. Bianca is a natural foods chef, freelance  health writer and, importantly a frequent blender. When she wrote me to inquire about guest posting, I have to admit, she had me at "frequent blender."
This is also a great example of knowing your audience – I get requests from folks that want to guest post fairly often, but rarely has the person researched enough to understand the types of things I am likely to post. In those cases, the answer is an easy, "thanks, but no thanks."
But Bianca, and Marie, from last week's guest post definitely did their homework and understood what was likely to work on my blog. That is HUGE. So, thank you to both Bianca and Marie for their attention to detail and knowing their audience!
With that, I'll let Bianca take it away!
###########################################################################
In recent years I have become a very big fan of blending, spurred on by my desire to lose weight and feel better. After years of being overweight and tired, I knew that I could transform my life with food. I looked to smoothies because they are an efficient way to infuse a large amount nutrients into a diet — as they can be densely packed with so many ingredients that are good for us. Instead of sitting down to a large salad with nuts, fruit, protein, yogurt and you name it, with smoothies, all of these essential nutritional sundries can be densely packed into one convenient sipper!
When I first started blending my concoctions were pretty basic, consisting of fruit, liquid and maybe be some yogurt, and that was it. But as my blending efforts increased, so did the nutrient value of my smoothies. I started thinking outside of the box and getting creative, putting nuts, flavored protein powders, flaxseed, Chia seeds and so many things that had the power to take my smoothies from good to great!
When I started juicing, the result of all the juicing was pulp! I had all this leftover pulp and no idea what to do with it. One day I decided to save the pulp, freeze it and use it in my smoothies – that's when everything changed!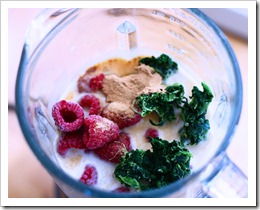 This blended creation is one of my go-to smoothies. It not only gives me energy,  but fiber and flavor! The Maca root is a tasteless powder which has been used in South American culture for years to increase energy, endurance and stamina, which is great for those who are on the go, and because it promotes faster healing and improved circulation, it helps reduce instances of anemia. (Editor's note: I can totally vouch for this from an athletic recovery standpoint – I love to put Maca in smoothies to aid in recovery).
The wheatgrass pulp found in this smoothie is an excellent blood builder because the chlorophyll molecules found within wheatgrass are almost identical to the hemoglobin molecules found in humans, thereby increasing red blood cell count. Increased red blood cell count enables our bodies to efficiently deliver oxygen and nutrients from head to toes.
There is a saying that total health starts with stomach health. and being that 60% of immunity issues are rooted in our guts, I would have to agree. Greek yogurt promotes healthy digestive flora which can improve lactose intolerance, regulate blood sugar and boost immunity. There is a reason that the Greeks consider this the food of the gods!
And I would be remiss to not mention the amazing-ness that is raspberries. Long considered a super food, they are incredibly high in antioxidants, fiber, and vitamins. Phenolic acid, the primary amino acid found in this wonder berry, may help reduce incidences and growth of cancer. And with cancer so prevalent these days, raspberries are an essential for any healthy living toolkit.
Can you believe all this goodness in one cup?! You'd be hard-pressed to find this type of nutrient content in any other beverage you might consume, which is why I love smoothies!
Raspberry Wheatgrass Smoothie
Makes 2 servings
2 cups vanilla almond milk
3 tablespoons Greek yogurt
2 cups frozen raspberries
½ frozen wheatgrass pulp
1 teaspoon maca root powder
Combine all ingredients in your blender (which around these parts is probably a Ninja KS/ or Ninja Pulse) and blend until smooth. Serve immediately.
Nutrition:
Based on nonfat plain Greek yogurt. Click to enlarge.
About the Author
Bianca Osbourne is a freelance health writer; she writes voraciously about the foods to eat for great skin and natural birth control methods. She believes strongly in a holistic approach to health and wellness.
###########################################################################
I want to thank Bianca for such a great, highly nutritional smoothie recipe. In case you didn't click to enlarge the nutrition info, this smoothie is high in Vitamin D (important for Northern Climate folks like me), as well Vitamin C and E, and a good source of a wide range of vitamins and minerals. And, it is high in fiber, particularly fitting based on our Fiber Frenzy talk yesterday! For what it's worth, Raspberries are one of the highest fiber fruits.
Have a great day all!