A Taste of Summer: Banana Mango Smoothie
Okay, I'll keep it real.
Summer hasn't really come to the Pacific Northwest. In fact, I am typing this wearing a sweatshirt and legitimately needing it. But, we are hopeful it will come. But, it is summer in most places in the country, and this smoothie is a cool treat that will cool you off on a hot day.
To say I have been on a mango kick would be an understatement! Mangos have been cheap (even at Whole Foods), and everything is better when you blend it. Right? Right.
I bought a Cuisinart blender set a few weeks ago that is like a Magic Bullet, and so far I am loving it. It's not the powerhouse that the Ninja is, but, it is great for making up a quick smoothie because you blend in the cup from which you'll drink. Genius. I am planning a full review in the coming weeks, but want to use it more to really give it a fair shake. (And make plenty of shakes…ha.)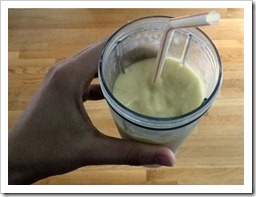 In the mean time, here is my current favorite smoothie:
2/3 cup milk of your choice
1 frozen banana (cut into 1 inch chunks)
1/2 fresh mango
1/2 scoop protein powder, optional
If you're using a Magic Bullet type blender, add the ingredients in reverse order to prevent gunking up on the blades when you blend. So, add banana, mango, then milk. Pulse a bit to combine, then blend until smooth.
If you're a Ninja Blender loyalist, just add everything in however you want, pulse to combine, and blend until smooth.
This is really sooooo good. Enjoy!
Nutrition:
Without protein powder: