Seasonal Green Smoothie
Along with probably most every other health conscious food blogger out there, I have previously written about green smoothies. They are just a fantastic way to add a boost to your day, and make a convenient "to go" breakfast as well. 2Chili contends I am loco en la cabeza for these drinks, but I really do honestly like them.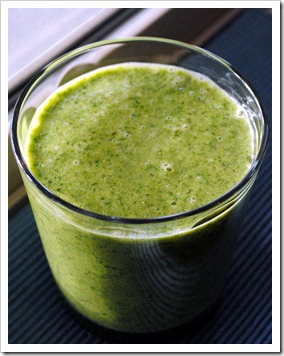 To get you ready for the holiday feasting that is about to commence, I thought I'd share my current favorite green drink concoction, which utilizes pumpkin! You could also go with butternut squash puree if you so desire.
Ingredients
8 oz hemp or almond milk (or just plain old "milk" milk)
1/4 cup pumpkin puree, from a can or from a pumpkin
1 small banana
1 tablespoon natural peanut butter
1 scoop protein powder of your choice (I am using pumpkin seed powder these days)
2 handfuls spinach
1 cup of ice
Method
Add all the ingredients to your blender in the order listed and blend until smooth. If it comes out a little thick, add a splash or two of water until you get a consistency you like. Cheers!
Nutrition
With hemp milk and pumpkin seed protein powder. Your values will vary if you use other bases or powders. If you are watching fat, go with skim milk or almond milk, as hemp milk does have some fat in it. I highly recommend keeping the peanut butter, as it makes it delish!