Recover Right: Strawberry Mango Shake
I haven't talked much about it around here, but I have been training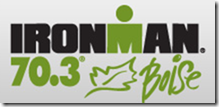 for a pretty big event that's coming up in less than a month.
I'll be doing the Boise Ironman 70.3 race in early June. It's a race where you swim 1.2 miles, ride your bike 56, and then run 13.1 miles all in one day. So, the last few weeks have been full of long bike rides, long runs, and plenty of time in the pool as we come into crunch time.
On Friday afternoon, I had a bike ride of 50 miles followed immediately by a 3 mile run, and then Saturday morning I woke up and headed out on a 90 minute run. The ironic thing about endurance training is that when you train really hard, your appetite can decrease immediately afterwards. At times when you need to eat the most, it sometimes just doesn't sound appealing! I have learned the hard way that skipping a recovery meal is not good and leads to soreness that can mostly be avoided.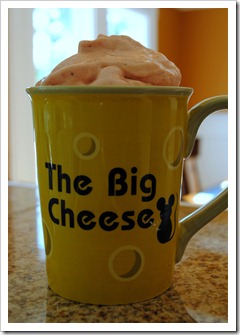 Saturday turned out to be somewhat warm for my run (if you call 62 degrees F warm) and I came home hot – a welcome feeling after a long, cold winter. (Don't worry, it got cold and started raining in the afternoon again). With the warm temps, I needed a cold treat! Ever since I learned my sometimes splurge of a medium strawberry shake at McDonald's has 750 calories, I started making my own.
Here is my strawberry mango shake recipe.
1 cup organic skim milk
1/2 cup plain nonfat Greek yogurt
1 cup frozen strawberries
1 cup frozen mango
1/2 scoop vanilla protein powder
1/2 tablespoon honey
I threw it all into the Ninja blender, and had a really great recovery drink in no time at all. This drink has the thicker consistency of a milkshake without the guilt and in a cuter serving vessel!
Nutrition: