Spiced Apple-Pear Butter
Fall is in the air! Apples are in season! What better time to make some spiced apple-pear butter?
I can't take any credit for this recipe – it came from Whole Foods. But, it is so good. I mean, so good! And so simple, really, and the perfect item to have simmering on the stove on a Sunday afternoon – it makes the house smell lovely!
I had some homemade apple juice in the freezer that I thawed out, and used fresh ginger instead of ground (I used 1 teaspoon fresh ginger leftover from a different recipe). And, I didn't have maple syrup, but brown rice syrup worked great, so I'm putting that as an alternative sweetener from the original recipe.
The hardest thing about this recipe is not continuously nipping from the spoon as you stir. Enjoy!
Spiced Apple-Pear Butter
Ingredients:
2 pounds apples, peeled and cored
1 pound pears, peeled and cored
1/2 cup organic apple juice or cider, or water
1/2 teaspoon Cinnamon
1/4 teaspoon organic ground ginger
2 tablespoons Dark Amber Maple Syrup or Brown Rice Syrup
Method:
Cut apples and pears into 1-inch chunks. Place in a medium saucepan with juice, cinnamon and ginger.
Bring to a boil over medium-high heat.
Reduce heat to medium-low and simmer until fruit is very soft, about 30 minutes.
Stir in maple syrup and continue to simmer until very thick, about 1 hour, stirring occasionally.
During the last 15 minutes, stir more frequently to prevent sticking and burning.
Puree in a high speed blender or food processor (I used my Ninja and pureed for about 30 seconds on "1")
Optional: Continue to simmer to further reduce the butter once you have blended it. You can see it reduced quite a bit more with about 15 more minutes of simmering. Note to self: Bring your tripod to Bend from Seattle. I couldn't take a photo with the spoon pointing the same way because I am right handed!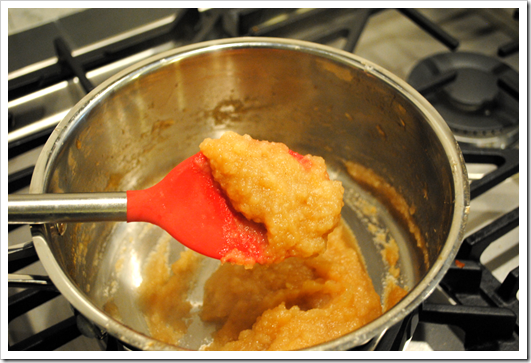 Nutrition:
Per Serving (2 tablespoons): 50 calories (0 from fat), 0g total fat, 0g saturated fat, 0mg cholesterol, 0mg sodium, 14g total carbohydrate (2g dietary fiber, 11g sugar), 0g protein