All Natural Pumpkin Spice Latte
Are you sick of pumpkin spice everything yet?
I hope not!
Today, I have a fast, cheap, and natural pumpkin spice latte for you.
Wait! And, while you're at it, hold the phone. Store-bought pumpkin spice lattes are not natural?
I'm sorry to be the bearer of bad news, but that barista-made PSL is more chemical than pumpkin.
It's a total bummer, but the good news is you can make a very good, all natural pumpkin spice latte at home, for cheap – and quickly – using actual pumpkin. And, you can make it caffeine-free, too, if you use a coffee-alternative called Dandy Blend.
I like Dandy Blend for this because it is instant, so you don't have to pre-brew any coffee. But, if you want to use coffee, be sure to brew a strong batch before starting so you have it ready.
One last parting note before I go.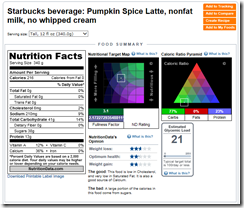 Here is the nutrition panel for a tall Starbucks PSL with nonfat milk. You might be surprised when you look at this.
Our homemade PSL is pretty darn nutritious in comparison. It is low in calories and sugar, and  high in vitamin A and potassium. Depending on the milk you use, is also a good source of vitamin D.
Take that, chemicals!
All Natural Pumpkin Spice Latte
Makes: 1 serving
Time Required: 2 minutes
Ingredients:
1.5 cups preferred milk or milk alternative (I use unsweetened vanilla almond milk)
2 tablespoons pure pumpkin puree (not pie filling)
1 teaspoon pumpkin pie spice (or, a blend of cinnamon, nutmeg, and allspice to your taste)
1/4 teaspoon ginger
1 packet Stevia in the Raw (or preferred sweetener)
1 teaspoon Dandy Blend, or, 1/4 cup very strong coffee
Method:
Add all ingredients into a small saucepan
Heat over medium-low heat, and whisk ingredients together until desired temperature is reached
Do not boil
Nutritional Breakdown
This will vary wildly depending on the type of milk you use, but for the recipe exactly as listed, using unsweetened vanilla almond milk, this is the breakdown.