Turmeric Latte
A few weeks ago, I fell off my mountain bike. It was a "soft crash," as I hit something I didn't see with my pedal as I was rounding a tree and at slow speeds.  In one instant, I just sort of fell on my left side into (literally) a pile of pine needles. Of course I fell on my left side – my "bad" side – that is how the world works! Falling off mountain bikes happens, though it is thankfully rare for me, but when I do fall, it is inevitably to the left.
But check out this view I came across on the route – not a bad day, truly. This was in late September in the high country outside of Bend, Oregon.
Don't worry, I was fine, save for a few minor scrapes and bruises. (I am also a good girl scout and travel with a small first aid kit when hiking or biking, and recommend everyone do the same in case of the unexpected).
To help speed up the healing and battle soreness, I turned to my friend turmeric, which I truly believe is a miracle worker. I relied on turmeric  in capsule form quite a lot as I was healing from my broken knee last summer. It sounds kind of "woo-woo" or "hippie," but trust me, turmeric is a powerful anti-inflammatory and pain reliever.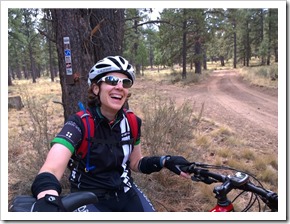 I can attest to the fact that it really works. In fact, I think it works better than many OTC pain relievers, and actually helps heal your body in the process.
I didn't have any turmeric capsules on hand, but I always have it in powder form in the pantry, so I tried something new: A Turmeric Latte.
You guys, forget Pumpkin Spice Lattes, turmeric is where it's at! You're going to have to trust me on this one. It sounds odd, but it looks and tastes delicious, and will make you feel so good, almost immediately.
I didn't invent this concept, but this is my spin on it. Enjoy!
Turmeric Spice Latte
Makes: 1 serving
Ingredients:
1.5 cups unsweetened vanilla almond milk (or non-dairy milk of choice)
1 teaspoon turmeric powder
1/2 teaspoon ground ginger
1/2 teaspoon ground cinnamon
Splash of pure vanilla extract
1 packet Stevia in the Raw, or, up to 1 tablespoon natural sweetener like honey or pure maple syrup
Pinch of salt
Pinch of black pepper (black pepper makes the turmeric more effective)
Method:
Add all ingredients to a small sauce pan, over low heat
Whisk together and warm, but do not boil
Nutritional Breakdown: