Product Review and Giveaway: Salad Zinger
A few weeks ago, the kind folks at Zing Anything sent me a Salad Zinger to review. You might remember Zing Anything from the Aqua Zinger, which I absolutely love.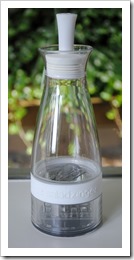 As you guys know, I eat a lot of salad, especially big salads, so needless to say, I was very excited to try out the Salad Zinger, an infused salad dressing maker. When I talked to them, I asked if they would be willing to sponsor a giveaway so one of you could win a Salad Zinger, to which they were happy to oblige. See below in the Giveaway Section at the very bottom of this post to learn how to enter. (Hint: Leave me a comment with your favorite salad dressing or what you would like to try to make.)
What's in the Box?
A stylish salad dressing cruet with a unique base that allows for grinding of fresh fruits, veggies, and herbs, to add a distinctive infused flavor into your creations. Also included are a user guide and brief recipe leaflet. The current retail price is $25.
How Does it Work?
The Salad Zinger is similar to the Aqua Zinger in he design of the "grinder" at the bottom of the bottle. The difference is that the Salad Zinger is designed to allow for easy creating of salad dressings with a drip-free spout and BPA-free plastic bottle.
In a nutshell, you put the items you want to infuse into the grinder base of the Salad Zinger, and as you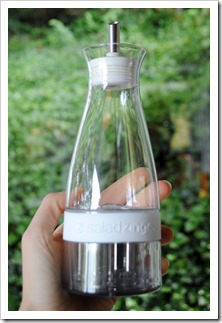 screw the base onto the cruet, it grinds the fresh ingredients and enables infusing of the flavors with the oil and vinegar you have poured into the cruet.
Here are the steps:
Select the fruits, veggies, or herbs you would like to infuse
Chop coarsely
Place into the grinder portion of the base
Screw the base onto the cruet
Add your oil and vinegar
Shake
Refrigerate for an hour or more
Pour!
What is it Made of?
Probably the most important feature of the Salad Zinger is that its plastic parts are BPA/EA-free Tritan plastic. To be honest, it would be nice if the cruet was made of glass for long term durability, but I can se how that might be heavy and also potentially dangerous from a breakage perspective. The spout and blades are food grade safe stainless steel.
The base of the grinder cup has a rubber base pad to prevent slippage, and, there is a silicon cap to cover the spout during storage.
The grinder base is very similar to that of the Aqua Zinger, with metal grinding blades to cut through the ingredients you are grinding. The blades are not sharp like a knife, so you don't have to worry about slicing your fingers.
The grinder top is perforated to allow the flavors to infuse back and forth.
What Can You Make?
This is where the sky is the limit. I am notorious for making only this simple balsamic vinaigrette – it's my staple dressing (or as 2Chili calls it, "sauce") and I like it. But, there are so many other wonderful dressings that could be made, and thankfully the Salad Zinger comes with a recipe booklet to help fire up your creative juices. In addition to salad dressings, you can also make infused oil, which is a special treat!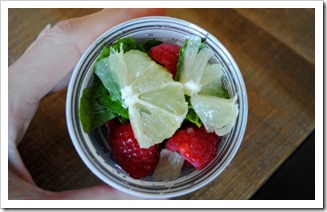 I made the raspberry vinaigrette from the recipe booklet:
8 fresh raspberries
5 fresh mint leaves
1 small chunk lemon, rind removed
1 tsp honey
1/8 cup rice vinegar
1/2 cup olive oil
Splash of Dijon mustard
Dash of salt and pepper
The chef's suggestion was to serve over thinly sliced beets, and I have to say, it was quite tasty with beets, cucumbers and raspberries. You can get more recipes on the Zing Anything website, here.
The guidance is to store your creations in the fridge for no more than five days, which is sound advice, regardless of if you use a Salad Zinger or not.
Tips & Tricks
There are a few things to keep in mind to help produce the best results with the Salad Zinger:
Infusions should steep until they have developed in flavor to suit your tastes. It's suggested that you let them steep from 2-3 hours in the fridge
All solid ingredients and spices go in the grinder cup; All liquid ingredients, including mustards, yogurts and oils go in the main vessel. Grated cheese can be added to the liquid portion as well
Do not add ingredients that contain pits
It's best to completely fill the grinder cup with ingredients to the top, then, turn the lid a few times to begin the grind before screwing the main vessel onto the bottom grinder cup
Bottom Line
Do you NEED a Salad Zinger? Honestly, I'd say it's kind of an affordable luxury item. If you eat a lot of salads (and, we all really should), it provides a simple way to get creative with your dressings while also providing an attractive serving vessel. It really is fun to infuse the dressings, and clean up of the Salad Zinger is very easy. The Salad Zinger is top shelf dishwasher safe, or, you can do like I do and hand wash. Someday we'll have a dishwasher again!
I am super happy to have one, and see this as a kitchen gadget that will get used a lot in our house.
The fine folks at Zing Anything have kindly offered up one Salad Zinger to a Test Kitchen Tuesday reader. As usual, I'm doing this giveaway as a random drawing to make it fair for everyone. To enter, simply leave me a comment below with your favorite salad dressing recipe, or, what you would make with the Salad Zinger if you won it. I'll draw a random winner using Random.org next Monday, August 26 at 8 a.m. PST. Good luck!
Fine Print
I was sent a complimentary Salad Zinger for the purposes of this review, but all thoughts and content are my own and not at all influenced by the maker. If you found this review helpful and decide to purchase a Salad Zinger, using this link from Amazon.com helps support the site and future product reviews. Thanks for reading!