Fresh Strawberry Butternut Smoothie
It's strawberry season, it's strawberry season!
This time of year is so great from a produce perspective. New crops start popping up, and odds are you're starting to see fresh strawberries in your supermarket or farmer's market.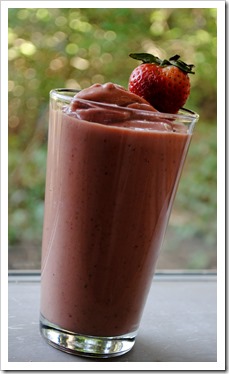 While we don't get "local" Northwest strawberries until around July, California berries start coming into season right about now, and I can't resist picking up a few. I stick to strictly organic when it comes to strawberries, as they are a pretty heavily sprayed crop and land squarely on the Dirty Dozen (the produce list, not the movie, ha!)
Did you know that strawberry tops (the green part) are perfectly edible? When I get fresh strawberries, I throw them into the smoothie, tops and all! I used frozen butternut squash in this smoothie because it works well as a base without overpowering the strawberries. It would be predictable to use banana, and you could do that as well.
This smoothie is packed with potassium and magnesium, so I like it after a workout.
Speaking of potassium and magnesium, I keep meaning to write about the importance of electrolytes in our diets, and how most people are super stocked up on sodium but deficient in a lot of the other electrolytes. Someday soon, I promise!
In the meantime, enjoy this taste of spring!
Fresh Strawberry Smoothie
Best Ninja Blender Jar Choice:
Ninja Pulse: Single serve cup
Ninja Professional Blender: 72 ounce jar with standard blade
Ninja Kitchen System: 72 ounce jar with standard blade
Ninja Mega Kitchen System: Single serve cup
1 cup unsweetened almond milk
3/4-1 cup frozen butternut squash (I buy it already cubed and frozen from Stahlbush Island Farms – you can get this at Whole Foods); Start with 3/4 cup and adjust from there if the smoothie comes out too runny on initial blending
1 scoop favorite vanilla protein powder
4 fresh strawberries with tops
Method:
Add all the ingredients in the order listed into your selected blender jar
Pulse 2-3 times to combine, then blend on "3" (or hold down single serve cup) until combined
Nutritional Breakdown:
This will vary depending on if you use protein powder. I calculated it based on 1 scoop of Jillian Michaels Whey Protein, which has 100 calories.