Nordic Naturals Omega-3 Effervescent and a Giveaway!
I'm in review mode around these parts, as I have quite a few items lined up to review and share with you guys. It's a good problem to have, as you know I have a non-kitchen right now. (In fact, my kitchen is such a non-kitchen, that it no longer exists – it's currently waiting for transport to its final resting place in the King County Washington dump).
The hardest thing about doing a remodel, besides actually doing the work, is that you end up living without many of the modern luxuries that most people take for granted. We currently have no kitchen, no laundry facilities, and power to only a few spots in the house. As I like to tell 2Chili, when you hit rock bottom, there's only one way to go – straight up!
I've mentioned a few times in the past few  months that  my nutrition is at risk due to having to eat out too much, so quality supplements become even more critical. One of the most important supplements I take is a certified toxin-free fish oil from Nordic Naturals. I really like it – it doesn't provide any after effects such as fish burps or bad taste, and it works great. My skin and hair are strong and healthy, and my mental acuity is as sharp as ever. So, when I was sent some Nordic Naturals Omega 3 Effervescent to try out, I was all over it!
What is it? A powdered omega-3 supplement made from cod liver oil.
Cod liver oil?!?! Yes, but this is not your grandma's cod liver oil.
This supplement comes in individual packets that you add to water, and it tastes like an orange creamsicle. And, much like the Oxylent I told you about last week, this supplement spiffs up your water and is quite tasty to boot. I have used it in several different situations (with breakfast, while working on our house, and even before bed), and never had any fishy aftertaste or any GI impact.
I really think this powdered form of Omega-3 is genius, especially if you're trying to get your kids to take fish oil (which is really critical to developing minds). I only wish I had taken fish oil from a younger age – who knows how much smarter I could have been. I am sort of kidding but sort of not there – it is proven that fish oil has a bevy of benefits, including improved markers of mental sharpness/brain health.
The Nordic Naturals Omega-3 Effervescent It is clean and smooth, no oily-ness at all, and even the packaging is appealing to the younger set. Not that this is for kids only – it is for adults and children alike – I just think the geniusness in this is that you could easily get kids or folks that have trouble with pills to take a fish oil supplement and enjoy it.
Nutrients:
What's nice about this Omega-3 supplement is that it also has vitamin D3 in it, so if you don't take a separate multivitamin, you're getting your vitamin D as well.
Cost
The best price I found was on Amazon, at about $1.21 per pack. However, if you buy it straight from Nordic Naturals, you can join their "Omega Club" and get 15% off your order and free shipping (this signs you up for quarterly deliveries).
Verdict
I will probably keep using the Ultimate Omega I am on because it is a higher dose of Omega-3s. However, I know a couple of different people that have told me recently they just can't stomach fish oil (because I work it into every conversation, honestly). I will be telling them about this great alternative to omega-3 pills! If you can't take pills, or just like to spiff up your water with actual nutrition, this is a great solution!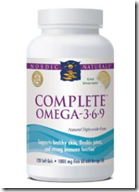 Giveaway!
Update: I was originally planning to give you an unopened bottle of Complete Omega 3.6.9 that Nordic Naturals sent me as a way of sharing the love. However, they have upped the ante and are going to give the winner a bottle of the Complete 3.6.9 and a little swag to go with it. Definitely get your name in the hat on this one!
Simply leave a comment below letting me know why you want it, and I'll choose a random winner on September 11 – one week from today.
Have you tried the Nordic Naturals Omega 3 Effervescent? What did you think?