Make Your Own Chocolate Almond Milk
Have you noticed the huge advertising campaign running right now by the Chocolate Milk folks called "My After?" If you watch sports at all, you really can't miss these ads. They feature famous athletes talking about how chocolate milk is part of their post-training recovery regimens.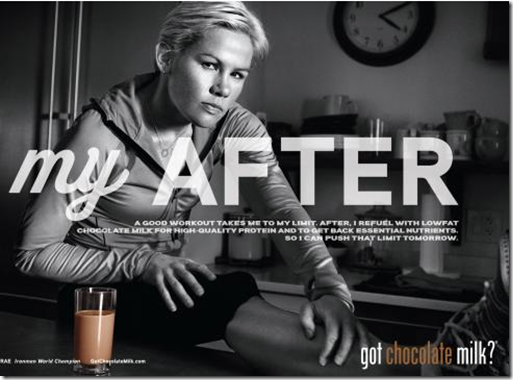 (For what it's worth this is smokin' fast triathlete Miranda Carfrae – they probably should have made some triathlon connection here for the 99% of the world that doesn't follow my favorite sport!)
Personally, the thought of drinking chocolate milk after a hard workout makes me slightly queasy, and I sort of disagree with the claims about its recovery effectiveness, but if it works for you, well…swim/bike/run with it.
Since I have been bombarded with these ads while watching this year's Tour de France, I got to thinking that it would be very easy to make your own chocolate milk at home. Well, your own chocolate almond milk (unless you have a cow out back, which is an entirely different scenario!).
DIY Chocolate Almond Milk
Ingredients:
1 cup of raw almonds, optionally soaked overnight
4 cups filtered water
1/4 cup unsweetened cocoa powder
5-8 pitted medjool dates, or other sweetener of your choice, like honey, agave, stevia, etc., to taste
Pinch of salt, optional
Method:
Add all ingredients to a high speed blender and blend for about 2 minutes to thoroughly combine (This is based on the Ninja Professional Blender – your blender may vary)
Strain in a mesh sieve or a nut milk bag to separate the pulp
Store in a covered container for up to 5 days in the refrigerator
Don't throw out the pulp! You can use it for all sorts of things:
Add it to oatmeal
Add it to muffins, pancakes, and other baked goods
Make crackers
Add to your compost bin
This is so incredibly easy and tasty. Though I still doubt I will drink it after a workout!