Gluten Free Chia Pancakes
After a week of not having a functioning cooktop in Bend, I am excited to be back in Seattle for a while with our whole gang, where we do indeed have functioning appliances! Cat and dog have resumed their routines, and I am again amazed at how easily they slip back into "Seattle mode." They have turned into very easy going and agreeable travellers!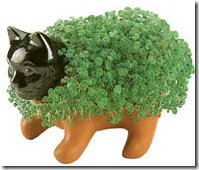 One food I neglected to include in my recent rant about naturally-high fiber foods is chia seeds. Yes, the same seeds used to grow Chia Pets!
Chia seeds are nutritional powerhouses. In addition to being high in fiber – one tablespoon has 5 grams – they are packed with Omega 3 Essential Fatty Acids, and have a good ratio of Omega 3 to Omega 6. American diets are skewed out of proportion to Omega 6 EFAs, which is really not a great thing.
Because chia seeds can absorb many times their weight in liquid, you can do lots of cool things with them. But, you can also use them just as you would any type of seed. The very first thing I made when I had access to a functioning stove again was these chia pancakes. This would be a great way to "sneak" chia seeds into a skeptic's diet – they pretty much get absorbed in the batter and you'd never know they were in there if you didn't know they were in there!
If you are concerned about gluten, be sure to use certified gluten-free oats that weren't processed in the same facility as any wheat..
Chia Seed Pancakes For One
Serves: 1
Ingredients:
Pancakes:
1 ripe banana, mashed
2 eggs
1 tablespoon protein powder
1 tablespoon chia seeds
2 tablespoons coconut or almond milk
1/4 cup gluten-free oats
Topping:
1 apple, chopped
1/2 tablespoon cinnamon
Dash of powdered ginger
Honey to taste
Method:
Preheat a nonstick griddle over medium heat
Mix all the pancake ingredients in a small bowl, drop by 1/4 cup and cook until the batter stops bubbling (about 2 minutes) and flip
Cook the reverse side for about a minute, and flip onto a plate
While the pancakes are cooking, chop an apple, place into a small bowl, and add cinnamon and ginger and microwave for 2 and a half minutes
Top pancakes with apples and honey to taste
Nutrition:
Click to enlarge. Does not include honey since the amount will vary.